Eigen, certified AS IATF 16949, ISO AS 9100 D, ISO 45001:2018, ISO 14001:2015 and ISO 9001:2015, has a thorough understanding of the specific requirements of the automotive & ancillary industry.  We have the know-how to produce many different automotive applications including window lift motors, engine knock sensors, door & steering locks, and more.
Eigen helps in designing and manufacturing precision metal stampings for automotive to meet the highest standards at the lowest costs.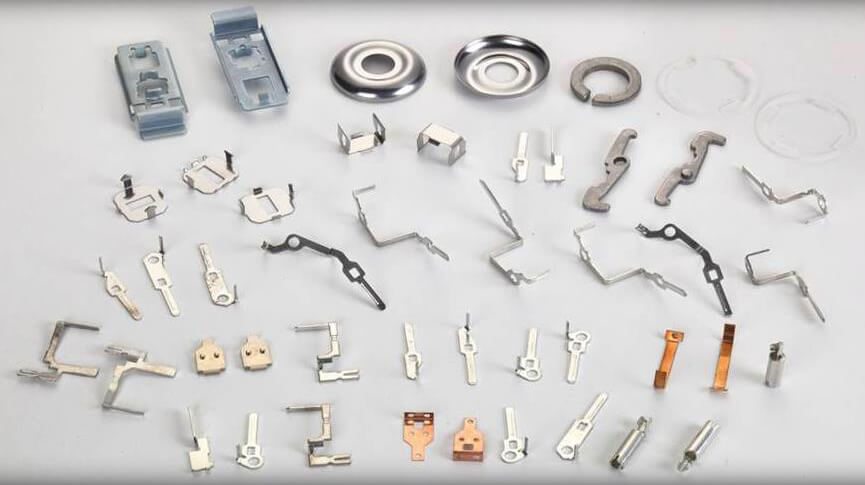 The automotive & ancillary industry makes use of metal stampings more than perhaps any other manufacturing industry today.
There are numerous parts and materials necessary for each of these components, and we have the expertise to manufacture them all.
Our capabilities include prototyping, medium and large production runs stampings. Other products available include intricate, complex, and prototype stampings.
Our capabilities include
3D tool design
In-house tool build
Insert/Over Molding
Exporting
Secondary Operations Include:
Pre-plating and post-plating
Painting, e-coat, and other finishes
Custom packaging
Assembly
Heat treating
Some of the typical applications of our products are:
Window lift motors
Car door lock actuators
Car door and steering locks
Coolant pump sealing
(L-R)light indicators
Engine knock sensors
Starter solenoid valves
Safety Applications
With customers around the globe and unparalleled expertise in the automotive & ancillary industry, Eigen Engineering is the industry leader in automotive metal stampings.
Types Of Automotive Components
There are multiple components in an automobile. But every car needs these four components to function properly. 
The Chassis.

The Engine.

The Transmission System.

The Body.
In addition to these four primary components, an automotive component manufacturer also has a variety of controls and optional extras.
Automotive components include the suspension system, wheels, and tires. As part of the vehicle's control system, learning about the car's brakes and steering is equally crucial.
The controls' intended function is to direct the vehicle's motion. The auxiliaries are optional extras that can improve the driving experience.
Economic Impact of Automotive Component Manufacturing
Automotive component manufacturing is a major economic driver. For example, in the USA, it has contributed between 3 and 3.5 percent to GDP. More than 1.7 million people are directly employed in the automotive sector, all of whom work on various aspects of car development, production, and distribution.
Raw materials, construction, manufacturing, legal, computers and semi-conductors, financial, advertising, healthcare, and so on are all heavily consumed by the industry. Annually, the car industry invests between $16 and $18 billion in R&D, most coming from within the sector itself. So, it's hard to picture American manufacturing thriving without the auto industry.
Explore Automotive Components Manufacturing Applications
Improvements in vehicle handling, efficiency, safety, and performance have been a persistent focus for automakers for well over a century. 
Recent years have seen improvements in stopping systems, traction control, and even accident avoidance due to the widespread usage of microprocessors, fast communications, and sensor technologies. Some modern vehicles use electric motors or hybrid designs to cut down on their dependency on traditional engine fuels, and electronic ignition systems have also been shown to boost performance and efficiency. 
Every automotive component manufacturer continues to subject their products to battery testing and inspections to assure consistent quality and, more importantly, continued emphasis on safety. Robotics has found widespread application in industry to improve efficiency, cut costs, and eradicate error-prone human intervention.
Why Choose Eigen for Automotive Components?
Quality control and product tracing are crucial processes in the production of automotive parts. Eigen has been assisting original equipment auto components manufacturers and Tier 1 and Tier 2 suppliers in the automotive industry for decades, helping them to produce high-quality goods and proving to customers that the sub-assemblies and components they supplied were constructed correctly and in accordance with their specifications.
With the correct equipment, you can enhance manufacturing capacity, improve quality metrics like First Time Yield (FTY), and track every component of your products from start to finish. Eigen's manufacturing data management, analytics systems, automotive metal stamping process and monitoring solutions give you this authority across the board.
Frequently Asked Questions
The automobile and the automotive industries are closely linked. Therefore, the two terms are sometimes used interchangeably. The noun "automobile" is commonly used to refer to a specific type of four-wheeled automobile built for passenger transportation, whereas the adjective "automotive" describes a broader category of motor vehicles.
Some of the different automotive systems are:
 Intake System

 Exhaust System

 Fuel System

 Valve Train

Engine Electrical