Best quality and Delivery for Year 2015-16
Home > Best quality and Delivery for Year 2015-16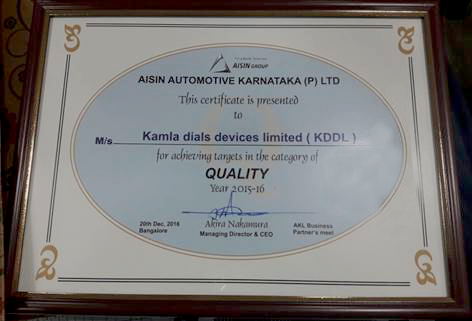 Aisin group was established in the 1965 and since then has always leaped towards establishing a global presence. One of the Aisin Plants in Karnataka is renowned manufacturer for brake components for automobile. A certificate from such an esteemed organization boosts our zeal really and motivates us as we move ahead with our precious partners that are satisfied with our top of the line services.Eigen has always taken pride in providing the best services to their customers across the globe. The company's reputation in best quality and delivery is known across the globe. On these lines, we KDDL Limited – Unit Eigen is extremely delighted to announce about one of the certificates for best quality and delivery for year 2015-16. This certificate was awarded to us by one of our esteemed customers, Aisin Automotive Karnataka (P) Ltd.
This certificate from Aisin Automotive Karnataka (P) Ltd. has been an additional energy source so to speak as we consistently put our customer's interest first and make sure that we always live up toothier expectations. At this point we would also like to assure our customers that we will make sure that we stick to our standards of best quality and delivery.
Ujjwal handles crucial roles like  AGM Marketing, researcher, and is an author for KDDL – Eigen. He currently works with Eigen for implementing proven techniques and strategies for marketing plans on online and offline platforms. An expert in efficiently executing SEO, SEM, email marketing, social media marketing, PR marketing, Print campaigns, etc. Ujjwal has coordinated an efficient marketing team on various creative campaigns and programmatic buying to support various digital cross-promotion efforts. Implement efficient search optimization strategies with the help of collateral material and metrics.
In his former years, Ujjwal has years of experience in a managerial role for several reputed companies. His years of experience combined with the flair of writing help him come up with result oriented strategies for Eigen.