Best Supplier Award – 2017
Home > Best Supplier Award – 2017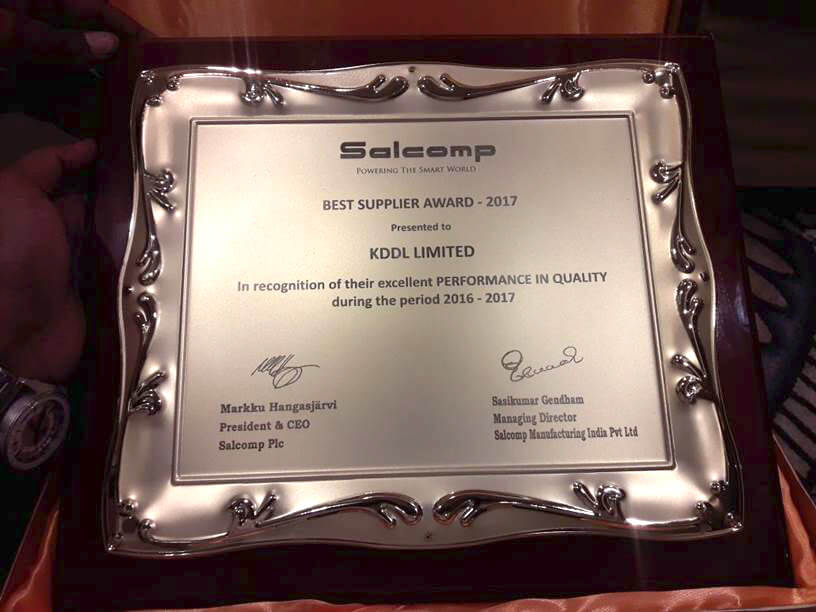 Wow! This is how it feels when our customers recognize our efforts and appreciate it at the same time. Recently, KDDL Limited – Unit Eigen is delighted to announce about the certificate from Salcomp Manufacturing India Pvt. Ltd. We received the award for being the best supplier -2017. This recognition comes as recognition for our excellent performance in quality.
Salcomp Manufacturing India Pvt. Ltd. are a developer and manufacturer of adapters for phones and also other electronic devices. The company is a leader when it comes to tablet and smartphone chargers. The very fact that our respected customer recognizes our efforts towards maintaining the best quality in all our products is a great boost for us to continue in our endeavor for the same.
Our excellent performance in quality has always been at the core of our working principles. Now all the more, we will make sure that we always stick to this reputation of ours and keep our customers happy and content at all the times. This award adds more emphasis to the fact that dedicated efforts and a keen eye towards maintaining top quality has and will always be rewarding.
Ujjwal handles crucial roles like  AGM Marketing, researcher, and is an author for KDDL – Eigen. He currently works with Eigen for implementing proven techniques and strategies for marketing plans on online and offline platforms. An expert in efficiently executing SEO, SEM, email marketing, social media marketing, PR marketing, Print campaigns, etc. Ujjwal has coordinated an efficient marketing team on various creative campaigns and programmatic buying to support various digital cross-promotion efforts. Implement efficient search optimization strategies with the help of collateral material and metrics.
In his former years, Ujjwal has years of experience in a managerial role for several reputed companies. His years of experience combined with the flair of writing help him come up with result oriented strategies for Eigen.