Unique challenges in Metal stamping Manufacturing Industry
Home > Unique challenges in Metal stamping Manufacturing Industry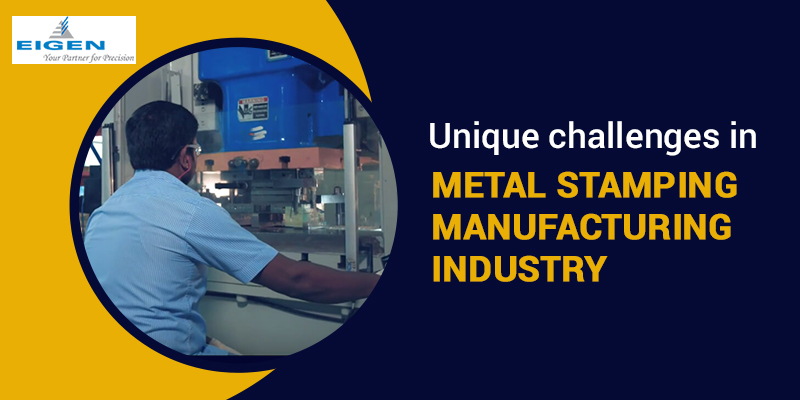 Metal stamping manufacturing industry has drastically changed and enhanced the production capabilities of other industries such as aerospace, automobile, industrial engineering, and the likes. However, the metal stamping manufacturers themselves are facing a unique challenge in our times. The whole industry is experiencing a shift as the dimensions around the global market change. Metal stamping manufacturers need to identify new techniques and tools in order to ensure that they are relevant in the market and the client looks at them as reliable partners. Here are some of the unique challenges that are faced in the metal stamping manufacturing industry. 
Stringent Requirement in Quality Control
This is one of the most unique challenges that manufacturers across the globe are facing in the metal stamping manufacturing process. In the recent past, there have been several changes and amendments in the quality control process in the metal stamping industry. The reputed industries do well to ensure that they are updated with the current trends and requirements in quality control. However, it is a challenge for the ones that do not take quality control seriously. Manufacturers such as Eigen are on the ball with the latest requirements and have even received ISO certifications as they keep up with these requirements. 
Procurement of Raw Material
In the year 2020, we experienced a major shift in transportation and this has a major impact on the import and export of raw material required in the metal stamping manufacturing. If the clients do not receive their finished products on time then it is the responsibility of the manufacturers to ensure that they step up their procurement of raw material. Experienced companies have their unique approach towards procurement and so they are able to make sure that nothing is left on chance. One of the best ways to tackle this challenge is to have reliable and reputed contacts in not just national but international markets and have good connectivity of air, land, and sea routes so that nothing is missed while serving the clients. 
Strong Time to Market Pressure
There is a strong time to market pressure and this is also justified from the client's perspective. For example, industries such as the automobile, defense, and aerospace do not have a lot of time on their hands to introduce new products and equipment in the market. Automobile industry is rapidly shifting and there is an ever-increasing demand for new products to be launched to keep up with the competition. In this scenario, the automobile industry cannot simply rely on the metal stamping manufacturing company to deliver on their own time. There is a constant push in the time to market and this adds extra challenge to the manufacturers as well to keep up with the expectations. 
Advancement in the Design and Simulation Technology
A wave of digital transformation has hit the metal stamping industry as well. There is a constant change in computing and design technology. On the other hand, there is also a shift in simulation technology as this helps the manufacturers and clients to save a lot of time, effort, and money in the project. The problem here is with the metal stamping manufacturers who are not able to keep up with the changing technology. Rather than sticking to the old way of doing things in the design and simulation of die and tools, it is crucial that manufacturers learn and implement new ways of doing things. This helps them keep up with the client requirements and ensure that they deliver the best services at all times. 
Automation in the Manufacturing
Automation is not new for the metal stamping manufacturers, but it is important to realize that automation in every process may not be the answer to handle the change. A lot of research, time, and money are required to implement automation in metal stamping, and so the manufacturers need to make sure that this is done wisely. Rather than naively going ahead and implementing automation in every process, the manufacturers need to make sure that they have a good strategy around automation and only then go ahead with the implementation. It is good to take professional help with experience in metal stamping automation to ensure that it helps benefit the company in long term. 
Custom Metal Stamping Requirements
Every often there is a custom requirement in metal stamping. Industries have varied requirements and in their competitive market, there are often times when they need to deliver products or components that have to be custom designed. In these scenarios, either the design is unique or the combination of material being used is challenging. In either case, the metal stamping manufacturing company has to ensure that they keep up with their client's requirements. In order to do this, the stamping company will need to have a team equipped with experienced engineers and the latest tools and technology to deliver the client with essential services. To be prepared for even a small project will help gain more clients and deliver the services. 
Connecting and Delivering to Global Clientele
There is a constant focus on democratization in the metal stamping industry. Industries from across the globe partner with manufacturers from across the globe, and India is on top of the list. Indian metal stamping manufacturing companies are reputed on a global scale for efficient services and low cost as well. As a result, it is crucial that indian companies keep up with the requirements and deliver the best results. It could be challenging if the infrastructure is not up to date, but with the right infrastructure and efficient planning, it will help the companies to deliver best results to global clientele. 
Eigen: Global Metal Stamping Manufacturing Industry
Eigen has been in the metal stamping industry for over 13 years and has delivered several large scale and small scale projects for national and international companies. With a manufacturing-based out of Bangalore, India, Eigen is very well connected through land and air, and so it helps in keeping up with the timely deliveries of finished projects. The company has modern and futuristic manufacturing units with the latest automation implementation as well. Clients looking for efficient metal stamping manufacturers can rely on Eigen to deliver world-class services.
Ujjwal handles crucial roles like  AGM Marketing, researcher, and is an author for KDDL – Eigen. He currently works with Eigen for implementing proven techniques and strategies for marketing plans on online and offline platforms. An expert in efficiently executing SEO, SEM, email marketing, social media marketing, PR marketing, Print campaigns, etc. Ujjwal has coordinated an efficient marketing team on various creative campaigns and programmatic buying to support various digital cross-promotion efforts. Implement efficient search optimization strategies with the help of collateral material and metrics.
In his former years, Ujjwal has years of experience in a managerial role for several reputed companies. His years of experience combined with the flair of writing help him come up with result oriented strategies for Eigen.