Copper Electroplating: Find the Best Supplier
Home > Copper Electroplating: Find the Best Supplier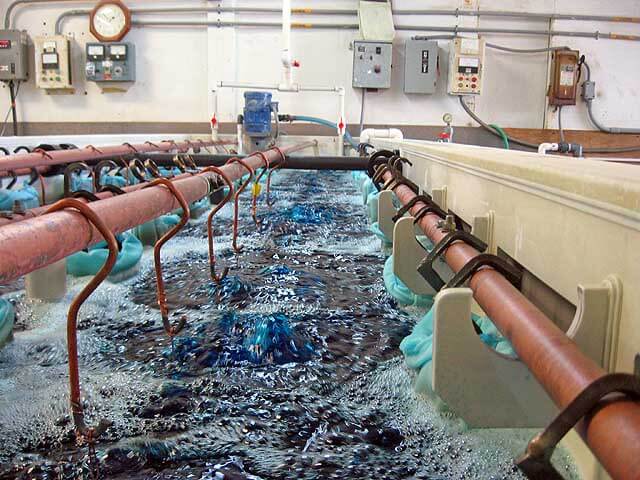 Electroplating process is one of the most commonly opted for option in wide range of industries. Copper electroplating in this regards, has a wide variety of use. Well, the concept of copper electroplating is simple. All that is done in his process is to submerge the material to be plated in an electrolyte bath, and apply the right amount of current so that the copper ions will be able to migrate and deposit into the set regions with a pre existing metal seed layer.
Electroplating with copper
At times, the copper electroplating is used as a heat treat stop off when it comes to masking. This is so because it allows for selective heat treating whenever there is a need for it. Additionally, the electroplating copper will also be used in a number of plating applications where a greater thickness build is needed and a high electrical conductivity is required as well. At times, this process is used in electroforming and for the metallization for non-metallic materials.
How do you find the best supplier?
Well, there is an increased competition in the field of copper electroplating and so a wide range of these services are available for you to choose from. You can be sure that there will be copper electroplating suppliers that offer to provide the most cost effective services, but are they really good? Well, here are some of the top considerations that will help you make the right decision.
What are their production capabilities?
You need to look at the copper electroplating suppliers that have good production capabilities. Not all of them will be appropriate to fulfill your needs. With these projects you may also need to get increased quantity along with the quality results. So make sure that you look for these aspects. Just the quality will also not suffice in times when you have increased demand for copper electroplating. So make sure that you look for the production capabilities that will be able to suffice your needs accordingly.
What kind of equipments they use?
Copper plating is one of the olden procedures in plating, but with time there have been a lot of changes in this technology. Well, the processes have been updated, the tools used have become latest, and other such important aspects that make it crucial for industries to use only the best copper electroplating equipments. Make sure that you pay a personal visit to the suppliers in order to get a clear idea about the tools that they are using and technology application that they have as well.
What is their experience?
Another important aspect that you need to consider is also the experience of these professionals. Copper electroplating process might sound simple, but it needs a lot of expertise in order to come up with the most efficient results. So make sure that you carefully consider the experience of electroplating services that you plan to hire. The experienced professionals will know exactly what is needed and will be able to provide you with the appropriate solution that saves you time and money as well.
What is the cost of service?
With so much competition in this field there are a lot of suppliers that can offer you with the best deals. Not all suppliers can offer great deals because of lack of space, technology, and expertise. However, the copper electroplating supplier with latest technology and efficient processes will be able to offer you services that are cost effective. Make sure that you compare the services; in order to get a clear picture about the cost it is best to compare the quotes from different suppliers.
What are the delivery commitments?
The reputed companies will have delivery commitments that are practical and efficient at the same time. So you need to make sure that you check on the delivery timings so that you can get a clear idea on when the final products will be delivered. It is good to check these much in advance and also look for the kind of reputation they have in this regards in order to get a clear picture about what to expect from them.
Eigen: Helps you handle copper electroplating
Eigen is one of the most reputed metal stamping companies providing copper electroplating services. The company has been successful in developing a global network of clients. Throughout these times the company has kept clients interest as a priority and makes sure that the clients are satisfied with every service that they provide. As a result, the customers from across the globe can be sure that once the requirement is spelt out to the company, the end result will be of top quality.
Ujjwal handles crucial roles like  AGM Marketing, researcher, and is an author for KDDL – Eigen. He currently works with Eigen for implementing proven techniques and strategies for marketing plans on online and offline platforms. An expert in efficiently executing SEO, SEM, email marketing, social media marketing, PR marketing, Print campaigns, etc. Ujjwal has coordinated an efficient marketing team on various creative campaigns and programmatic buying to support various digital cross-promotion efforts. Implement efficient search optimization strategies with the help of collateral material and metrics.
In his former years, Ujjwal has years of experience in a managerial role for several reputed companies. His years of experience combined with the flair of writing help him come up with result oriented strategies for Eigen.