Differences between Standard and Custom Metal Stamping
Home > Differences between Standard and Custom Metal Stamping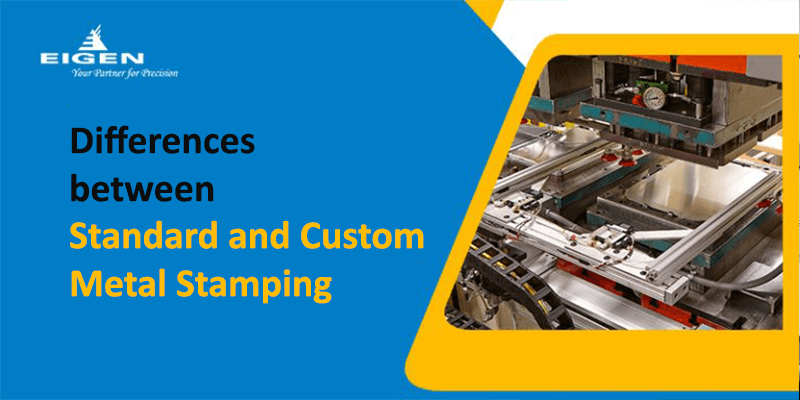 Metal stamping is a manufacturing process that was popularized during the first Industrial Revolution. It was introduced as a cold metal-forming process primarily used to produce bicycle handles and frames. Since its start in Germany, standard and custom metal stampings have evolved into an entire industry dedicated to producing components for almost every industry. The initial stages of the automotive industry started using metal stamping over forging for component production due to the reduced costs of metal stamping.
Metal stamping is a straightforward metal manufacturing process. Raw metal in sheet or coiled form (also called a blank) is put inside a stamping press. This press has a die in the shape of the desired final component. Using compression and force, the die gets pressed into the raw material. After a while, a semi-modified component is removed from the press. Similarly, multiple operations are performed on the raw material like finishing, trimming, coining, and embossing before the final component is removed from the stamping press.
Metal stamping has multiple benefits for the manufacturer and the consumer. This cold-shaping process doesn't need the metal to be heated to be shaped, making it cheaper. Intricate and complex designs can easily come to life with metal stamping, which isn't possible with other processes. The high accuracy and precision of metal stamping cannot be achieved using any other metal forming method. This precision makes metal stamping the leading choice in metalworking even today.
Metal Stamping Fundamentals:
Metal stamping involves taking a raw metal in either sheet or roll form and operating on it to transform it into the desired component. This is a complex process that is made up of multiple intricate and complex procedures. Its applications extend across multiple industries, from the automotive to aerospace to electronics industries. It is useful in any industry that requires the production of well-crafted components and parts. Metal stamping includes several operations like punching, embossing, bending, coining, and others that are performed on the raw material to achieve the desired output.
Let's look at the differences in standard and custom metal stampings. This will help you understand which one is right for your business needs.
Standard Metal Stamping:
People believe that customizing all their orders or requirements is the only way to stand out in the market. However, most of the standard components we know today started as customized parts. Standard metal stamping is the right choice for your business if you want large volumes of components produced in a shorter period. It is also more reliable as standard components achieve their 'standard' status after going through years of trial and application.
EXPLORE OUR METAL STAMPING SERVICES
Benefits of standard metal stamping:
More choices: You get to choose from a large array of sizes and shapes for various components across multiple industries.
Flexibility: Components made through standard metal stamping are easily customizable with multiple optional features like brackets, thread inserts, holes, etc.
Made-to-order: Components are provided sub-assembled within the enclosure.
Finish: Choose the product finish that you like best according to the application you need it for.
Custom Metal Stamping:
Many times, businesses require personalized components according to new specifications. For all such requirements, Eigen has over a decade of experience in the design, manufacture, and finish of custom metal stampings and components. We have a skilled team of project managers and engineers who can create components according to your specifications within your budget and with all the functionalities you require. Once completed, you have complete ownership over the completed proprietary parts.
Benefits of custom metal stampings:
Accuracy: Our expertise in creating and designing custom components gives you output that exactly meets your specifications.
Reliability: Our robust team of designers and engineers leverage their expertise and exceed the industry standards of manufacturing, costs, performance, and functionality.
Customization: Our in-house tooling stations help deliver unique components as per your requirements.
Proprietary Ownership: You get complete ownership of the custom tooling once the manufacturing process is completed.
Ensuring Faster Order Delivery:
Ensuring high quality in your output is one thing. Ensuring high quality across large volumes of components is another. We understand your needs and the importance of deadlines to maintain a competitive edge in the market. Therefore, as manufacturers, we understand that we need to have stringent processes in place as we strive to deliver large volumes of components to you on time.
In today's competitive market, instant gratification is of utmost importance to customers. Therefore, the manufacturer you choose should know how quickly they can deliver the final output to you after a quick analysis.
Eigen has mastered its metal stamping services in its 14 years in the industry. We have a highly-qualified team of experts who understand custom metal stamping requirements better than others in the industry. When you choose Eigen as your partner for your custom metal stampings, you get the assurance of the highest quality of output within your deadline and your budget.
Ujjwal handles crucial roles like  AGM Marketing, researcher, and is an author for KDDL – Eigen. He currently works with Eigen for implementing proven techniques and strategies for marketing plans on online and offline platforms. An expert in efficiently executing SEO, SEM, email marketing, social media marketing, PR marketing, Print campaigns, etc. Ujjwal has coordinated an efficient marketing team on various creative campaigns and programmatic buying to support various digital cross-promotion efforts. Implement efficient search optimization strategies with the help of collateral material and metrics.
In his former years, Ujjwal has years of experience in a managerial role for several reputed companies. His years of experience combined with the flair of writing help him come up with result oriented strategies for Eigen.