Eigen at FABTECH – 2018, Atlanta, USA 6th to 8th November
Home > Eigen at FABTECH – 2018, Atlanta, USA 6th to 8th November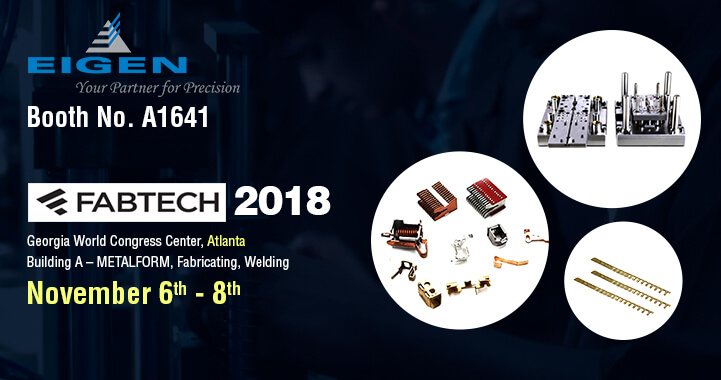 It is that time of the year again when Eigen is all set to take a giant step forward towards technology and innovation. We will be attending the FABTECH 2018 Trade Show, Booth No. A1641, Building A – METALFORM, Fabricating, Welding. It is an honor to be part of the, FABTECH 2018 – Metal Forming, Fabricating, Welding & Finishing Expo.
FABTECH 2018 will be held on November 6-8 in Atlanta. At FABTECH the industry assembles to stand for the current trends in the industry, what's new on the block and what's up and coming in the world of technology. We look forward to the exposure we will be getting at the international platform, make new connections, learn from the latest exhibits and hopefully contribute to this incredible burgeoning Southeast manufacturing market.  FABTECH 2018 in Atlanta makes it all possible.
FABTECH is the place where the pioneers of metal forming, fabricating, welding and finishing industries meet and greets influential buyers. This amalgamates technology and products, giving a great fillip to their business profits. FABTECH ensures you get a face-to-face opportunity to showcase your equipment and services to people who call the shots in the world of metal forming, fabricating, welding and finishing.
We are hoping that our yields double up and we give positive results with this international exposure. Our agenda is to expand market share, build brand awareness, boost our profit margins, collect leads and procure orders. This provides a golden opportunity for us to surge right ahead of the competition. We are grateful for the opportunity and plan to make the best out of it.
Ujjwal handles crucial roles like  AGM Marketing, researcher, and is an author for KDDL – Eigen. He currently works with Eigen for implementing proven techniques and strategies for marketing plans on online and offline platforms. An expert in efficiently executing SEO, SEM, email marketing, social media marketing, PR marketing, Print campaigns, etc. Ujjwal has coordinated an efficient marketing team on various creative campaigns and programmatic buying to support various digital cross-promotion efforts. Implement efficient search optimization strategies with the help of collateral material and metrics.
In his former years, Ujjwal has years of experience in a managerial role for several reputed companies. His years of experience combined with the flair of writing help him come up with result oriented strategies for Eigen.