Eigen at Micronora – 2018, Besancon , France 25th to 28th September
Home > Eigen at Micronora – 2018, Besancon , France 25th to 28th September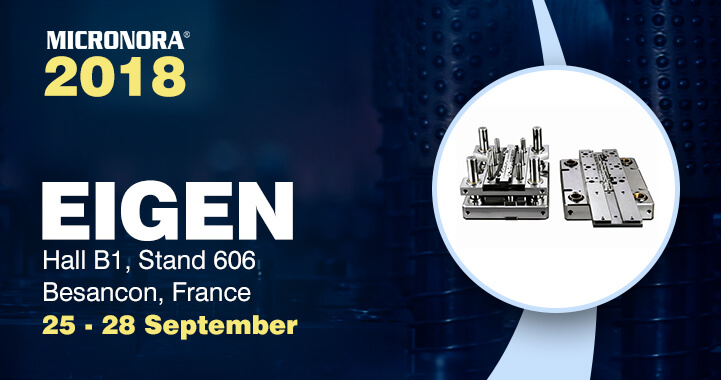 The Eigen team is all set to rewrite history as we are about to join the leading trade show for industrial technology, Micronora exhibition in Besançon , France, Hall B1, Stand 606 from 25th to 28th September 2018. The Eigen team is all agog to join this very specialized trade fair that assembles the entire microtechnology sector and tenders a lucrative multi-technological offer that includes R&D to subcontracting and production technologies.
Micronora offers transfer of solutions between varied industrial sectors, micro, and nano-technologies. This cutting-edge sector looks out for smaller, for more accurate technologically sound solutions. Your search for the avant-guard solutions ends right at Micronora.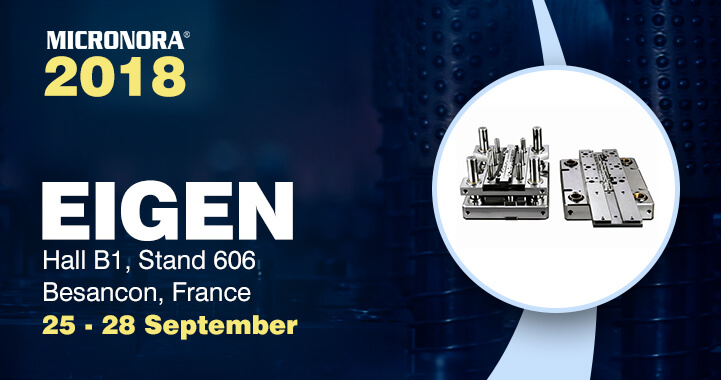 Eigen, a certificated company from Bangalore, hopes to add to this enormous talent pool. We plan to grab the opportunity with both hands and showcase our ware in one of the largest and most important trade fairs. Our forte is the following, progressive tool building, press tool design, plastic injection molding, precision metal stamping parts, sub-assemblies, electroplating, and other value-added services, supporting electrical, aerospace, and automotive & other industries.
We are glad that we have found a platform where we can exercise our efforts, amalgamating all our preparation and advance planning, We want this experience to be productive, profitable, and even more rewarding.
We as a company plan to interact with the other attendees and engage in a well-rounded booth experience and hope to leave a lasting impression on a prospective customer.
We are honored to be a part of a leading microtechnology trade fair in Europe which has opened the door of opportunities to nanotechnologies since 2006. We plan to build new relationships and forge deeper connections which will open channels for new sales leads. Also, besides the experience and the exposure, we aim to tap into the new market that hasn't been tapped into yet or discover a need for a potential new product. We plan to hit the road with the best intention hoping to make the best of the opportunity.
Ujjwal handles crucial roles like  AGM Marketing, researcher, and is an author for KDDL – Eigen. He currently works with Eigen for implementing proven techniques and strategies for marketing plans on online and offline platforms. An expert in efficiently executing SEO, SEM, email marketing, social media marketing, PR marketing, Print campaigns, etc. Ujjwal has coordinated an efficient marketing team on various creative campaigns and programmatic buying to support various digital cross-promotion efforts. Implement efficient search optimization strategies with the help of collateral material and metrics.
In his former years, Ujjwal has years of experience in a managerial role for several reputed companies. His years of experience combined with the flair of writing help him come up with result oriented strategies for Eigen.