Latest Trending Techniques Used in Custom Stamping Dies
Home > Latest Trending Techniques Used in Custom Stamping Dies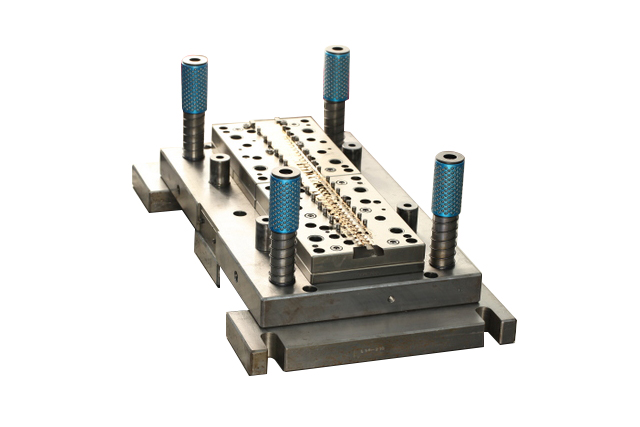 Metal stamping has gone through lots of refinement over the years and new techniques like custom metal stamping are the latest technique used for manufacturing parts. Custom metal stamping dies is a process in which a tool or a part is designed that is specially customized according to the client's requirement. In short custom stamping dies are basically custom made tools that are designed for metal stamping. Today a wide range of industries use custom metal stamping for manufacturing high volume products and to ensure that the custom stamping dies to meet their specifications.
Below are some of the trending techniques used in custom metal stamping industries:
Fluidforming:


This technique is a revolution in the field of custom metal stamping which is a new-age technology. The earlier invention in metal stamping was the hydroforming process which uses hydraulic oil to press the metal sheet into a stamping die, however with the innovation of fluid forming, instead of hydraulic oil, the process uses liquid tap water with pressure much higher than hydroforming up to 400mPA/60,000psi. Fluidforming helps in designing unique shapes and intricate angels, also there are fewer scratches on the final product as the press uses a rubber diaphragm for stamping. Some amazing features of this technology are that- it is environmentally friendly since it uses water as the base for metal stamping, helps to save time on production, reduces overall manufacturing cost and this process can be handled manually or even automated.

Robotic Automation systems:


In this system, the automated robotic arm is deployed to move the metal pieces from one machine to the other machine in order to produce the desired custom metal stamping dies. Initially, the metal sheet is fed in the die stamping press and after that the robotic arm takes over by picking the part and moving it to other presses till the final stamping of the part is completed and the scrap is transferred to the bin. Benefits of using an automated system are that it increases the speed of production at cheaper rates and this technology helps to minimize waste because it provides extremely high precision for manufacturing parts. Since this automated technology uses robots for all the processes, there is a decrease in the need for skilled manpower which helps to keep the workers safe and reduce dangers.

3D printing technique:


3D printing is one of the latest hot topics that's trending in the custom metal stamping market today and for years it has been used in creating prototype parts. The benefit of using 3D is that the client can create specific pieces and can visualize and construct the end results just by looking on a computer screen. Another benefit is that 3D printing does not require the operator to be skilled in CAM, as it can be designed in CAD and then immediately sent to the 3D printer for quick manufacturing of the part. It also helps in lowering the labor time and energy and at the same time keeps the client happy and satisfied due to the customization and personalization of the final product. The only drawback currently is that the 3D printing process is very expensive, but in the near future, it is expected to become cheaper which can benefit an array of industries.

ERP systems:


ERP is also known as Enterprise Resource Planning is a business management software that helps in storing and managing data of a business. This application can be used to implement best practices and standards to improve business operations. Most of the custom stamping dies companies cater to both local and international markets and so using the ERP software helps them to streamline their operations, manage their suppliers, and increase productivity and efficiency. The advantage of using this software is that it makes it easy to even handle critical business functions like demand forecast, resource planning, and operational performances. At the same time, it also is in tune with the production needs and helps in designing unique shapes. ERP monitors automatically the production time, the total number of parts that are created, and the downtime and immediately updates the inventory.
These are some of the trending techniques used for custom metal stamping dies which will help the metal stamping industries to stay ahead in the competition with the use of the latest technologies available in the market.
Ujjwal handles crucial roles like  AGM Marketing, researcher, and is an author for KDDL – Eigen. He currently works with Eigen for implementing proven techniques and strategies for marketing plans on online and offline platforms. An expert in efficiently executing SEO, SEM, email marketing, social media marketing, PR marketing, Print campaigns, etc. Ujjwal has coordinated an efficient marketing team on various creative campaigns and programmatic buying to support various digital cross-promotion efforts. Implement efficient search optimization strategies with the help of collateral material and metrics.
In his former years, Ujjwal has years of experience in a managerial role for several reputed companies. His years of experience combined with the flair of writing help him come up with result oriented strategies for Eigen.