What are Metal Stamping Parts Considered to be Good?
Home > What are Metal Stamping Parts Considered to be Good?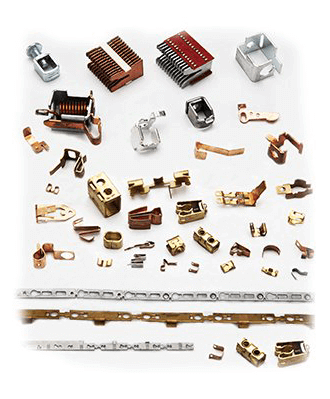 An era of technical development is what we are living in. Gone are the days where technology was limited to just a selected few. The same is true for several industries that rely heavily on metal stamping part. At the core, the metal stamping process is the same, but the overall process varies in different industries. Some of the most common industries that rely on metal stamping parts are automotive, aerospace, electrical, electronics, and so on. However, what are the metal stamping parts that are considered to be good? Well, here is a list of things that make the metal stamping part good for the customers.
One of the most important things that industries these days look for is the good quality of metal stamping parts. This is a crucial aspect because only then does their final product become successful in the market and known for good quality. Metal stamping part need to be of good quality for a good reputation among the clients as well. Imagine the stamping parts not up to standard and the final products being defective, well; this is an added reason why good quality is highly important
Custom metal stamping is opted when specific requirements come up. With the help of appropriate metal stamping process, the required parts are made and installed in the final product. However, if the metal stamping part do not endure with wear and tear it will not help the industry thrive and make customers believe on them. So the parts need to be made in a way that they endure under wear and tear.
Parts available in affordable cost
These days there is immense competition out there and so the clients are always looking for products that are available at the most affordable price. The same goes true with metal stamping part as well. Clients look to get the good quality parts at the least price. Well, delivering the affordable products is not possible for all metal stamping suppliers because there are a lot of variables in this regards. If a supplier has to provide the most affordable precision metal stamping parts then they need to make sure that they have the latest technology implemented. The latest technology and equipment are designed to get more in less cost and time, and this is what makes it possible to deliver the products at affordable cost.
The parts have gone through strict QC
A strict QC ensures that every minute detail in the part is carefully checked. This ensures that there is nothing left for chance. A reputed metal stamping supplier has efficient quality control processes implemented in every stage of production. This ensures that the clients receive only the finest of metal stamping part. There are many suppliers that only promise to provide the best results in this regards but not all of them are efficient enough to do so. So it is important for the clients to personally visit the supplier and find out whether or not the QC processes are implemented in every stage as promised. This will help the clients get a clear picture about what to expect from the supplier.
Eigen: You efficient metal stamping parts partner
Eigen has been leading the precision metal stamping industry since the last 16+ years. From the time of its inception, the company has always aimed at providing only the best quality service to their clients from across the globe. There are several processes from designing to the delivery of a product, and these processes have been tried and tested. Once you hand over your project to Eigen, you can be rest assured knowing that you will only get the best of metal stamping parts delivered to you.
Ujjwal handles crucial roles like  AGM Marketing, researcher, and is an author for KDDL – Eigen. He currently works with Eigen for implementing proven techniques and strategies for marketing plans on online and offline platforms. An expert in efficiently executing SEO, SEM, email marketing, social media marketing, PR marketing, Print campaigns, etc. Ujjwal has coordinated an efficient marketing team on various creative campaigns and programmatic buying to support various digital cross-promotion efforts. Implement efficient search optimization strategies with the help of collateral material and metrics.
In his former years, Ujjwal has years of experience in a managerial role for several reputed companies. His years of experience combined with the flair of writing help him come up with result oriented strategies for Eigen.