End to End Metal Stamping Solutions Provider
Home > End to End Metal Stamping Solutions Provider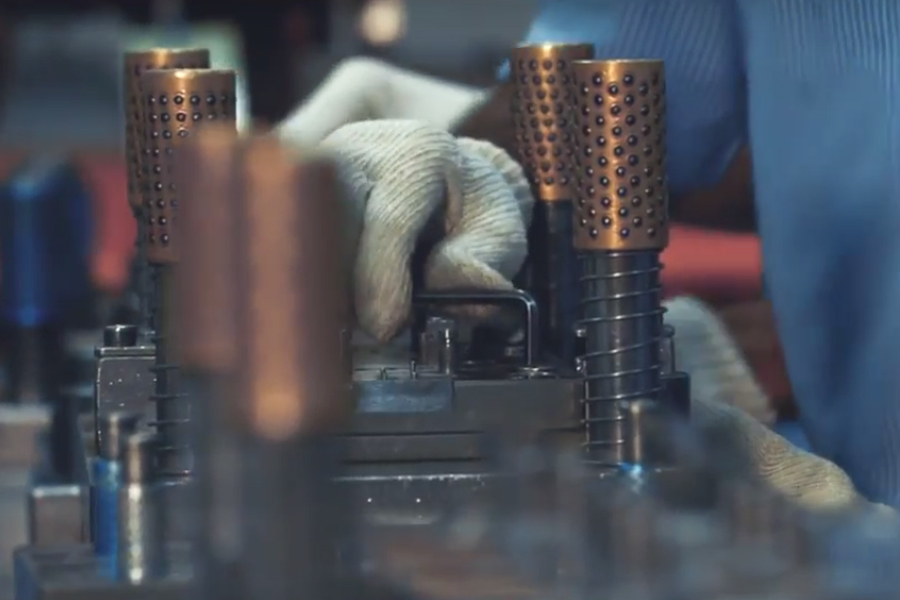 Metal stamping industries are instrumental in designing and manufacturing highly rugged and sophisticated parts for numerous other industries. A few of the industries that greatly benefit from precision metal stamping are Electrical & Electronics, Automobiles, Aeronautical , Industrial Engineering, and Consumer Durables. Metal stamping is considered to be one of the most cost effective and efficient approaches towards producing metal products on a large scale. Industries across the globe look for providers that are capable of efficient metal stamping solutions in all stages. However, there are very few companies that stand up to this requirement, and Eigen is one of them.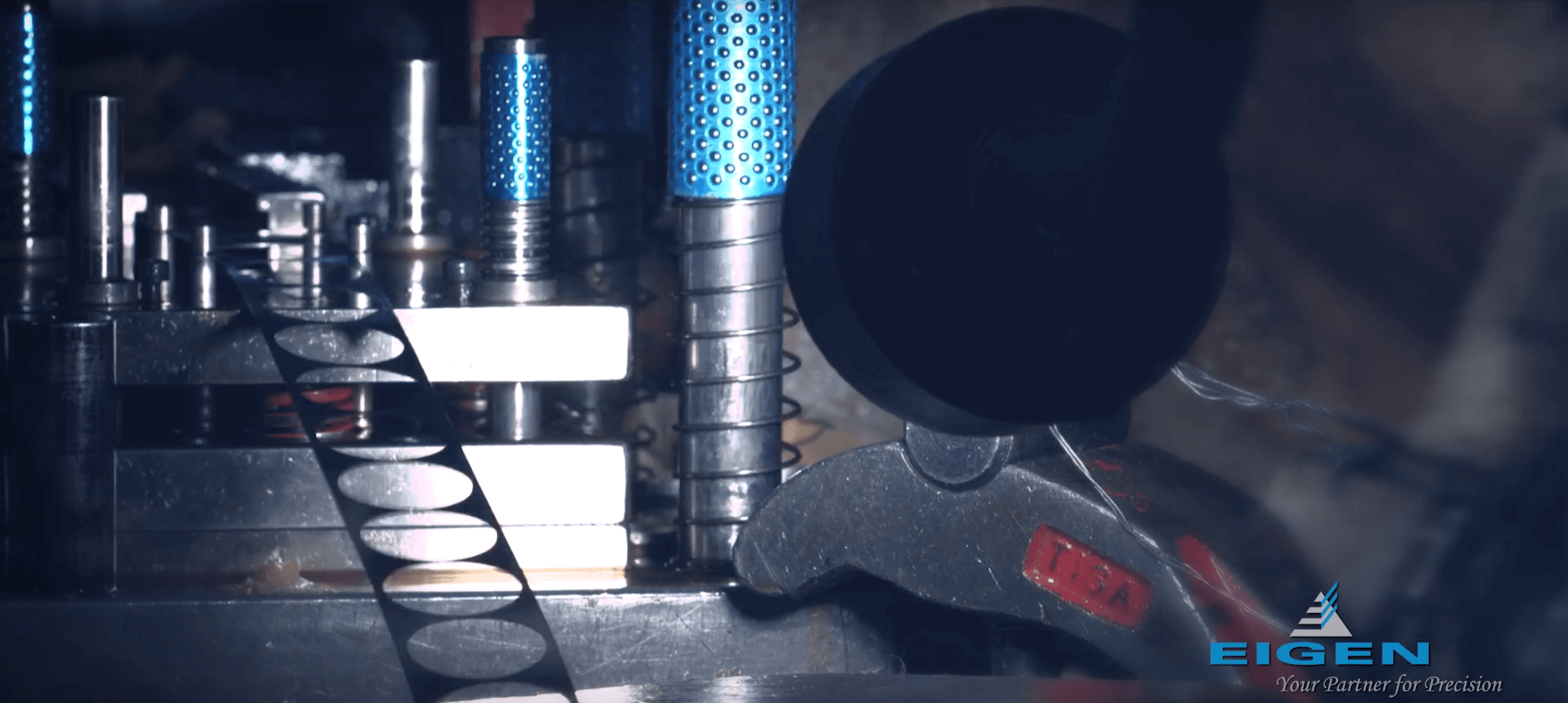 Eigen: Metal stamping solutions under one umbrella
Eigen is one of the leading precision metal stamping companies, providing excellent services to a wide clientele. The company has a proven track record of implementing various metal stamping solutions for a wide range of project sizes and complexities.  At Eigen, their expert team is always on the lookout for extraordinary outcomes in all their projects. Mentioned below are some of the top solutions that Eigen provides to their clients.
Eigen was established in 1995, and from then on, the company has developed 1000+ tools, with more being added every day. When it comes to metal stamping tools, Eigen has a proven track record of design, development, and manufacturing of single stage press tools to the very complex 45 stations or even higher tools with sizes ranging from 100 to 1000mm. Tool development is of the highest pedigree, owing to the stringent quality control processes. In order to ensure that the component products last for a long time, Eigen uses the best technology in the tool room. With the constant requirement of metal stamping tools from various industries, the press tools and specialized multi-cavity molds are manufactured to the highest of standards.
Precision metal stamping is applicable for many industries like aerospace, telecom, electronics, dental, computers, and more. Eigen specializes in stamping close-pitch, high precision, and tight-tolerance parts. They are experts in stamping ferrous and non-ferrous materials of thickness starting from as low as .002″/ .05 mm to as high as .19 "/ 5mm, and even higher depending on the client's requirements. The annual production capacity of Eigen is over 500 million components, and so clients can be sure about their precision metal stamping requirements to be taken care of with great ease. The presses here range from 15 to 200T, and the supplementary mechanical presses complete this ultra-modern press shop.
Eigen has embraced a wide range of advanced technologies that have enabled them to provide exceptional stamping services to their clients. Custom metal stamping is one of the many specialized services that Eigen provides to clients across the globe. In this area of service, Eigen provides Metal stamping solutions as per the customized requirements. The customer's precise requirements and conditions are considered before the final products are made in order to attain precision. Eigen takes on a lot of new challenges in Custom Metal Stamping and is always ready to design, re-engineer and produce new products.
Expert group of employees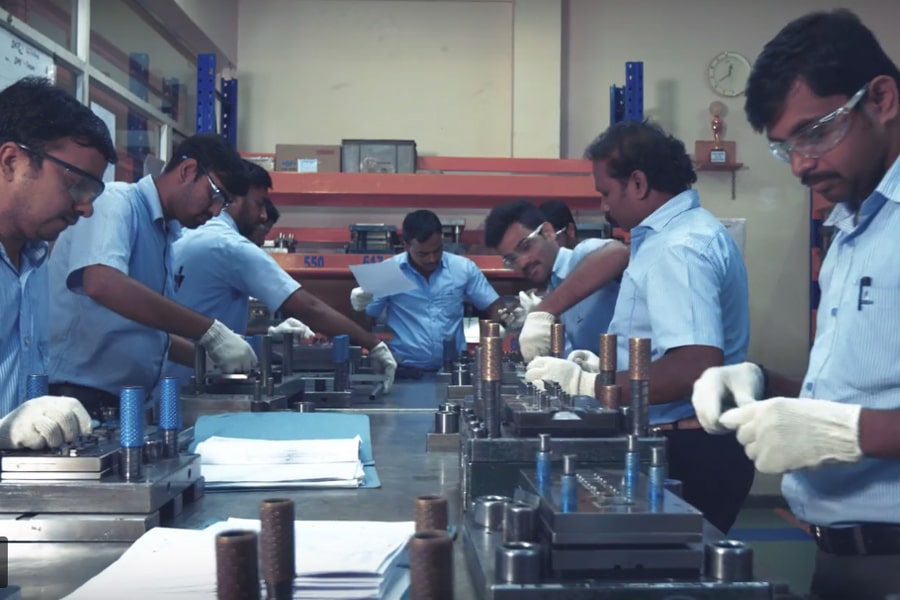 In order to accomplish a high standard of service and provide end to end metal stamping solutions, Eigen has over 200 employees that go through strenuous training sessions on a regular basis.  The work week here is 6 days, with 3 shifts in a day; this is enough to shed light on the dedicated employees at Eigen. Eigen is an expert in designing and developing the various tools required in a number of industries. The experience of 5000+ men hours on tool design and development comes in handy to take on any new project and come up with precise results.
Integrated solutions
Eigen takes on numerous contract assembly services and provides end to end solutions to their clients. In order to provide efficient services to their clients; manual, semi-automated and fully automated services are used. This way, Eigen takes on all the various processes that industries have to dedicate their time and resources on, and comes up with final products to ensure client satisfaction. As a result, the customers can remain worry free from the inception to manufacturing process, and the final assembly of the product as well.
Why Partner with Eigen?
Since the last two decades, Eigen has time and again proved its mettle in precision metal stamping, sheet metal stamping, custom metal stamping, metal stamping dies, precision metal stamping, and more. Since it has a very well-established reputation and name in the market, Eigen is always focused on achieving perfection in everything they do. With every leap in this booming market, Eigen ensures that highest standards of quality are implemented in every process and product delivered to the client.
Ujjwal handles crucial roles like  AGM Marketing, researcher, and is an author for KDDL – Eigen. He currently works with Eigen for implementing proven techniques and strategies for marketing plans on online and offline platforms. An expert in efficiently executing SEO, SEM, email marketing, social media marketing, PR marketing, Print campaigns, etc. Ujjwal has coordinated an efficient marketing team on various creative campaigns and programmatic buying to support various digital cross-promotion efforts. Implement efficient search optimization strategies with the help of collateral material and metrics.
In his former years, Ujjwal has years of experience in a managerial role for several reputed companies. His years of experience combined with the flair of writing help him come up with result oriented strategies for Eigen.