A New Progessive Design Methodology for Metal Stamping Die Design
Home > A New Progessive Design Methodology for Metal Stamping Die Design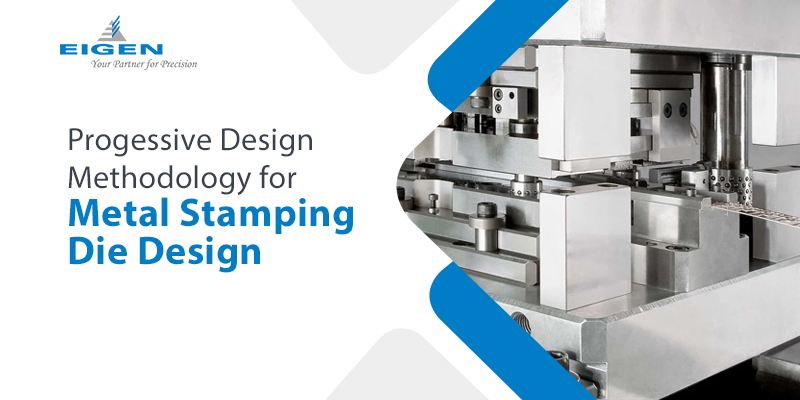 Metal stamping industry has undergone tremendous changes in recent years. From just the basic mechanical tools and press die designs to sophisticated technology combined with top of the line computing has taken the stamping industry to the next level. Metal stamping die design is complex but a crucial part of the stamping industry. Industries such as aerospace, defense, automotive, and the likes depend upon the metal stamping industry to deliver required metal components. Without a progressive design methodology, it will be a huge challenge to keep up with the ever-demanding industrial needs in the metal stamping arena.
Great Demand in Metal Stamping Die Design
There is an outstanding growth in the metal stamping die design requirements as industries are always looking for ways to optimize time, cost, efforts, and enhance efficiency in their components. With the ever-increasing competition in the market, it was crucial that even the metal stamping companies up their game with regards to introducing new progressive design methodology. The metal stamping companies implement the latest technology and equipment to ensure that customers get the best results with their component design requirements. Here are some of the ways in which the companies are able to accomplish it:
Progressive Design Methodology:
Progressive metal stamping is a known process opted by the metal stampers. Although the projects wherein this approach is used varies from one project to another, progressive approach ensures that a lot of manual efforts are saved. A computer-aided program helps the metal stamping companies to achieve the desired results. There are several complex 3D designs required in the latest metal components, and a progressive design methodology helps in accomplishing it from the conception to design and production.
A progressive design methodology helps in dealing with complex sheet metal stamping processes. Metal stamping industry has evolved in the recent past. Earlier with the limitation in computing and appropriate software support, it was a painstaking and expensive process to create complex metal stamping die design. However, with the technological advancements and a changed approach towards designing, it is a much faster and efficient process for companies.
There are several possible technological scenarios, especially when working with die design and producing metal components for industrial needs. With the progressive design methodology, now it is possible to explore several technological scenarios in order to deliver ultimate results.
The solutions achieved with progressive design methodology can also be replicated with new projects and designs. Several design requirements can be met on a consistent basis by the design team with the sophistication and possibilities made available due to a progressive approach.
Choose the Right Metal Stamping Die Design Company
There is a wide range of companies out there claiming to be the best metal stamping manufacturers. However, it is crucial that you make a careful decision when choosing a die design company. Here are some of the important considerations that will help you choose the right manufacturer.
Experience in Stamping Die Design
One of the first things that you need to consider is their experience in metal stamping die design. Take a look at the number of years that they have been working in the industry and the kind of projects that they have handled. Ask questions on progressive die design methodology and their experience with providing this solution to customers. This will help you get a better understanding of what you can expect from them when you delegate your project.
Kind of Technology Used
In order for the metal stamping die design company to be efficient, they need to be quick to implement new technology so that they can identify new ways of doing things and give the best results. This is one of the important criteria that most companies miss out when their existing technologies work well for them. However, the best stamping die design manufacturers will look for ways that will help the clients to achieve best results. So make sure that you ask this question when identifying the best manufacturers for your projects.
Recognition from Other Industries
It is often good to look at the companies that have recognition from the other reputed organizations. One of the certifications that is rare for metal stamping manufacturers to get is ISO certifications in quality. These certifications are given to the companies that maintain stringent quality standards set by the group of industry. The manufactures that take this seriously are the ones to look for and delegate the project. If they have to get this certification, it means that they have been following strict measures for years.
The Cost of Die Design
It is important to also look for the cost of the design when it comes to choosing the right metal stamping companies. The ones that use the latest technology make sure that the clients get best deals on their product. It helps to give them optimum results in low cost and efficient productivity. Make sure that you carefully compare the cost and also understand the costing of other companies better. This also helps to identify the best deals from the best companies.
Eigen: Progressive Design Methodology
Eigen has been in the stamping die design industry for over 15 years. The company has been always scaling new heights and implementing the best technology to help clients get optimum results in their industries such as aerospace, electrical and electronics, defense, and the likes. The progressive design methodology is used for several projects to help clients achieve better results in their design and ultimately the finished products. With international recognition and several ISO certifications in its kitty, Eigen is a full-fledged metal stamping die design company helping industries achieve their end goals.
Ujjwal handles crucial roles like  AGM Marketing, researcher, and is an author for KDDL – Eigen. He currently works with Eigen for implementing proven techniques and strategies for marketing plans on online and offline platforms. An expert in efficiently executing SEO, SEM, email marketing, social media marketing, PR marketing, Print campaigns, etc. Ujjwal has coordinated an efficient marketing team on various creative campaigns and programmatic buying to support various digital cross-promotion efforts. Implement efficient search optimization strategies with the help of collateral material and metrics.
In his former years, Ujjwal has years of experience in a managerial role for several reputed companies. His years of experience combined with the flair of writing help him come up with result oriented strategies for Eigen.