Design and Analysis of Progressive Tool and Die by the Best Manufacturing Industry
Home > Design and Analysis of Progressive Tool and Die by the Best Manufacturing Industry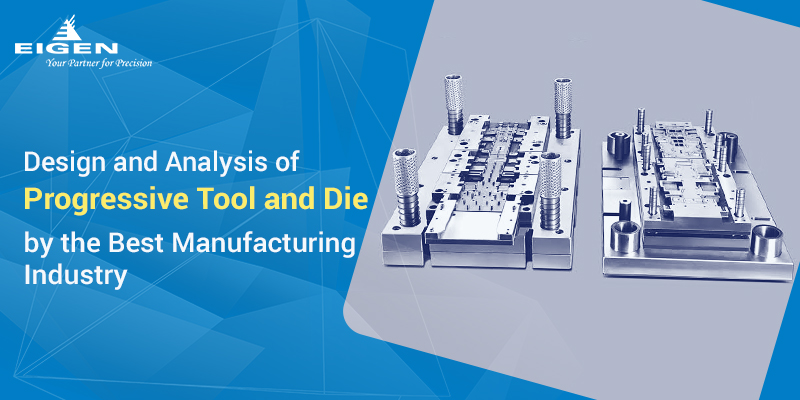 Metal forming industries have been using the progressive tool and die for years, and this is especially true in the sheet metal stamping industry. Progressive tool and die is used in performing more than two different operations on the working stations. The raw material is fed into the first station and the finished product is received at the last station. It is a complicated task to design and finish with the progressive tool and die. In progressive tool and die, the manufacturer and client industries hugely benefit due to the low cost and efficient tools being used in the overall process. 
Importance of Progressive Tool and Die
Industries such as automotive, defense, aerospace, electrical & electronics, etc. rely heavily on the mass production made possible by the press tool design. The precision tool and die are designed to help manufacturers help in mass production. It requires expertise, experience, and a great design team to get everything in accurate shape and dimensions. Progressive tool and die are used in several forming projects to achieve desired designs in a component. Let's analyze some of the important aspects of what helps the manufacturing industry to be the best in progressive tool and die forming. 
Advanced Designing:
Designing is one of the most important aspects of the precision tool and die is dedicated software for press tool design. However, with time there are advanced software and tools that are available for design. The manufacturing industry aiming to be the best needs to scale up and implement these tools in their design cycle. The latest tools and software help designers to keep up with the market standards and deliver the best output. This is one of the important aspects to check when visiting a manufacturing facility to know more about the company. 
Experienced Team:
It is vital to have experienced teamwork on the progressive tool and die design manufacturing. The progressive forming and stamping have evolved over the last few decades. The experienced professionals who understand this transformation are in the best position to adhere to the latest standards for efficiency in the components. It is a combination of experience and skills that help manufacturers achieve the final results. Experienced professionals also understand your project better and many at times are in a better position to recommend seemingly minor changes or tweaks in the design that proves to be beneficial in the long run.  
Advanced Tools:
It is important to ensure that the manufacturing industry has scaled up with the advanced tools in progressive tool and die. Many manufacturers may have a tendency to stick to the old ways of doing things because of several reasons. However, advanced tools and machines help the manufacturers to design, manufacture, assemble, and deliver in a reduced amount of time. On the other hand, the advanced machines also cut down on the cost of manufacturing as these are able to deliver the products faster. So advanced tools and computing are designed to help manufacturers achieve good results in faster turnaround time and at low cost. So make sure that you look for this aspect when looking for the best manufacturer. 
Good Quality Control:
Good quality control standards are essential in progressive tool and die design manufacturers.  This helps to abide with the stringent standards set by the company stamping and also helps deliver the best to clients. Rather than waiting till the end of the manufacturing cycle, a good QC team identifies problems in the earlier stages and ensures that these are rectified before the next stages. As with progressive tool and design, there are several steps before the finalized component is out for delivery, QC cannot be compromised if precision is to be achieved. 
EXPLORE OUR PROGRESSIVE TOOLING SERVICES
Mass Production:
Production capability is another important aspect that cannot be overlooked due to the massive demand and shortage of time that industries have for the release of a product. Manufacturing industries with years of experience and good reputation should also have the possibility to mass produce in order to keep up with the customer requirements. Mass production will also involve having supportive technology to manufacture the required components and deliver these on time. 
Minimize lead time and operation cost:
Every manufacturer would want to minimize the lead time and operation cost, but there are only a few that are successful. The press tool design is supposed to be designed in a way that helps to reduce the total lead time and operation cost. This is the stage wherein a combination of experienced engineers and creative designers work as teams. Parts with complex shapes can be formed by using progressive dies and high levels of accuracy and engineering are required if the above has to be accomplished. So it is best to check how the manufacturer helps in minimizing the lead time and cutting the operation cost. 
Choosing only the best manufacturers
There are several companies out there promising to be the best manufacturers, but there are very few that can actually keep up to this standard. As a customer it is important to keep the above points in mind when hiring a precision tool and die manufacturing industry for your projects. Make sure that you pay a personal visit to the unit to see for yourself how the manufacturer keeps up with the above requirements. This will help you to interact and ensure that all promised and claimed things are taken care of in the unit. 
Eigen: Your Trusted Progressive Tool and Design Manufacturing Industry
Eigen has been a trusted partner to global clients over the last 15 years. The company has seen the technology shift in sheet metal stamping, and precision tool and die design in the last few years and have embraced the technology. With a manufacturing unit based out of Bangalore, India. The manufacturer is very well connected to other parts of the world and has a solid reputation in delivering only the best. If you are looking for a reputed progressive tool and die designers, get in touch to Eigen to know more.
Ujjwal handles crucial roles like  AGM Marketing, researcher, and is an author for KDDL – Eigen. He currently works with Eigen for implementing proven techniques and strategies for marketing plans on online and offline platforms. An expert in efficiently executing SEO, SEM, email marketing, social media marketing, PR marketing, Print campaigns, etc. Ujjwal has coordinated an efficient marketing team on various creative campaigns and programmatic buying to support various digital cross-promotion efforts. Implement efficient search optimization strategies with the help of collateral material and metrics.
In his former years, Ujjwal has years of experience in a managerial role for several reputed companies. His years of experience combined with the flair of writing help him come up with result oriented strategies for Eigen.