SUBCON – 2018, Birmingham, UK
Home > SUBCON – 2018, Birmingham, UK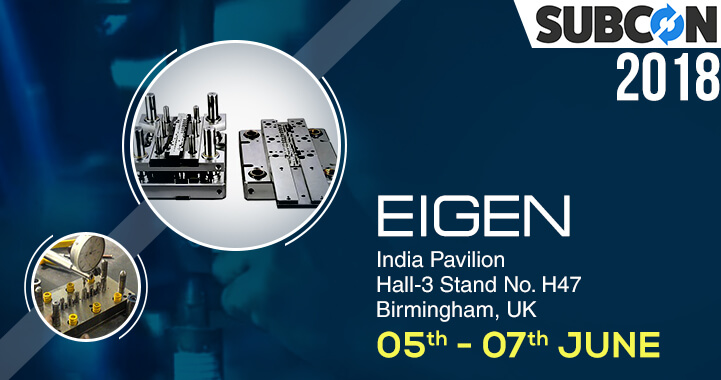 We are delighted to announce a perfect platform for Eigen team when we attend the UK's Premium Subcontract Manufacturing Supply Chain Show; the SUBCON. This event will be held on 5-7th June NEC Birmingham. This is where the top decision makers in the technology domain will be present. Eigen team feels privileged to attend this International event along with over 4000 top industrial leaders from across the globe.
This is one of the melting pots for the future of technology, where top industries will showcase their best, make contacts, and it is no different for Eigen. A perfect place for engineers to source their top of the line and advanced technology products here.
It is a golden opportunity for us to showcase our talents, contributions toward the engineering domain, and speak about the latest trends and developments in Engineering. We are looking forward for the intense sessions where we increase awareness of our brand, influence and target audience from engineering niche, and have personal sessions with the decision makers.
Ujjwal handles crucial roles like  AGM Marketing, researcher, and is an author for KDDL – Eigen. He currently works with Eigen for implementing proven techniques and strategies for marketing plans on online and offline platforms. An expert in efficiently executing SEO, SEM, email marketing, social media marketing, PR marketing, Print campaigns, etc. Ujjwal has coordinated an efficient marketing team on various creative campaigns and programmatic buying to support various digital cross-promotion efforts. Implement efficient search optimization strategies with the help of collateral material and metrics.
In his former years, Ujjwal has years of experience in a managerial role for several reputed companies. His years of experience combined with the flair of writing help him come up with result oriented strategies for Eigen.