Successful Killer Tips of Sheet Metal Stamping Supplier
Home > Successful Killer Tips of Sheet Metal Stamping Supplier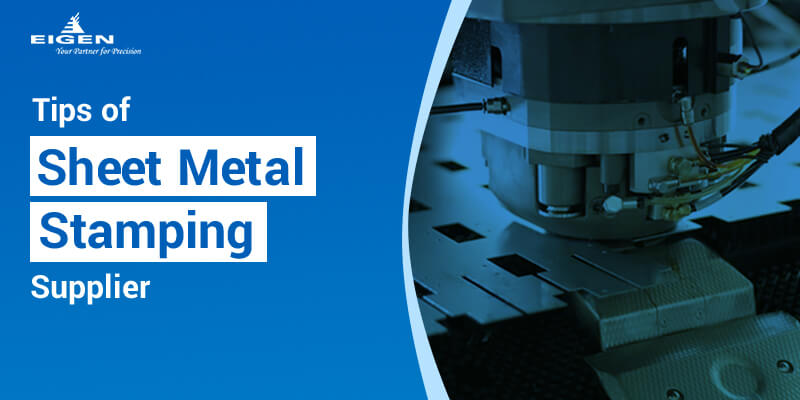 The Industrial Revolution has had an impact on every industry out there. Whether you are into the automobile, aerospace, electrical & electronics, or industrial engineering, the industrial revolution has had a serious impact on your industry. In this regard, the sheet metal stamping supplier comes off as a clear winner.
All industries rely on sheet metal stamping to get final components or parts to build their products. In these highly competitive and changing times, what can you do to succeed? Here are successful killer tips from the sheet metal stamping supplier to help you have a competitive edge and get the best out of the Industrial Revolution.
Experienced stamping supplier are rare but the ones that are experienced and reliable are even fewer. As a sheet metal stamping supplier it is important to have a good plan revolving around the project. You need to make sure that you look at every different aspect that will enhance the overall process.Rather than only relying on experience, make sure that you have a specific plan designed for a project. This helps you deliver results based on the specific client requirements.
Back in the days when it comes to working with metal, customers would look at the supplier with the traditional and old approach and trust them to be reliable. However, the times have changed now and customers realize the importance of looking at the sheet metal stamping supplier with the latest tools. Latest tools and technology helps to execute the same project in less time, more efficiency, and less scrap material. As a sheet metal stamping supplier it is your responsibility to keep in touch with the latest happenings in the metal stamping industry and adopt new tools that will help you deliver the best results.
Have an in-house tool room
The need for an in-house tool room can never be overemphasized. If you have an in-house tool room it will help add more efficiency to your stamping process. For example, there is no need to arrange transport for the die to be moved on the production floor.
If there are any amendments needed on the die or tool, the process to move from the production floor to tool room will be much easier and less time-consuming. As a metal stamping suppliers, you will not only save time in your design to the production floor process but will also add efficiency in your tool design team.
Can Some processes be Automated?
Automation has become the buzzword in many boardroom discussions and this is true in the sheet metal stamping industry as well. The purpose of automation is not to reduce the need of stampers but it is to put their cognitive skills to better use in the organization. Many at times, the repeated and manual tasks are tiring and there are increased chances to make a mistake. When you automate your process, it will help to accomplish close tolerances and manufacturing needs without human error. In this regard, it is important to carry out a careful study on what exactly needs to be automated to increase and enhance the manufacturing capability and reduce the cost at the same time.
Have a Good QC process and Team
Quality control is important in sheet metal stamping, and this is especially true when you are handling major projects for big industries. Even a seemingly small issue can be a big one for the customer, and so a miss from your side will result in a loss of time, efforts, productivity and money.
If you implement strong quality control standards across your production it will help you to identify any issues in the initial stage, and a good team will meticulously carry out the QC process. Although it may seem that QC takes time and has an impact on the delivery schedules but experienced sheet metal stamping supplier will never underestimate the benefits that come from meticulously following the quality control process.
The introduction to sensors on the production floor and manufacturing machines has reduced the amount of accidents that used to be a norm, but it is important that companies implement safe working environment in the factory. Safety is crucial for increased productivity and it also keeps your workers safe. If a worker is injured due to a lack of safety features in a manufacturing company, it will directly have an impact on the overall productivity, reputation, and due diligence of the manufacturer. So make sure that as a responsible sheet metal stamping supplier you implement safe working standards within the organization.
After getting the final production complete, delivery is where a lot of bottlenecks happen and this impacts the customers work. It is crucial to have a good delivery process to make sure that the customers receive their finished products and components on time and more importantly in a safe manner. There are several tools and software available that can be used in the sheet metal stamping industry to ensure that the delivery is done right. The time and money spent on this department will enhance your reputation in the market and having a good name adds a lot more clients in the future as well.
Your Experienced Sheet Metal Stamping Supplier
Eigen is an experienced sheet metal stamping supplier with a global outreach. The manufacturing unit is equipped with the latest tools and technology and there are regular training sessions for the employees to have an edge over the technology used in metal stamping. The in-house tool room has a mix of experience and creative minds always looking to create magic for their next project. The company relies on not just technology but a group of thought leaders in precision sheet metal stamping with years of delivering the best to clients from across the globe. Eigen is experienced in handling stamping needs for Aerospace, Automobile, Defence, Industrial Engineering, etc. The team spends time to understand your process followed by carefully planning, and then uses the latest technology to execute the best results.
Ujjwal handles crucial roles like  AGM Marketing, researcher, and is an author for KDDL – Eigen. He currently works with Eigen for implementing proven techniques and strategies for marketing plans on online and offline platforms. An expert in efficiently executing SEO, SEM, email marketing, social media marketing, PR marketing, Print campaigns, etc. Ujjwal has coordinated an efficient marketing team on various creative campaigns and programmatic buying to support various digital cross-promotion efforts. Implement efficient search optimization strategies with the help of collateral material and metrics.
In his former years, Ujjwal has years of experience in a managerial role for several reputed companies. His years of experience combined with the flair of writing help him come up with result oriented strategies for Eigen.