Stamping Tool/Die Design and Manufacturing Services for Global Engineering Industry
Home > Stamping Tool/Die Design and Manufacturing Services for Global Engineering Industry
Tool/die design services is an important part of any product's manufacturing process.  In consultation with the stamping tooling provider, the design team needs to consider manufacturing design principles to ensure product success. If the tool/die design is not planned carefully, inferior objects will be constructed that are prone to malfunction, resulting in entire batches of the product being wasted. Selecting the appropriate tool/die design services can assist the product manufacturer during the pre-production and production process.
Here are a few tool/die services for your consideration:
Design & Engineering
Tool/die design and engineering services develop custom tooling specifically designed for your manufacturing needs. Importance is given to practical yet innovative solutions that cater to your requirements for production accuracy, speed, and costs. High-quality workmanship with creativity allows for building high-caliber tooling solutions for components of any size or geometric complexity. Use of state of the art equipment, and advanced CAD modeling software should be carefully chosen to enable them to meet tolerance demands for a wide range of precision dies, gauges, fixtures, and tooling.
Design and engineering services could include cost reduction analysis, consulting services, and manufacturability analysis and a range of services such as material selection consultation, design assistance, and prototype development.
Designing of The Tool
A wide range of parts and components are made when tool designing is done right. There are several stages of designing a tool that needs to be followed meticulously. One of the first things done in designing the tool is to clearly understand the customer requirements. A blueprint drawing helps the creative designing team. The end goal is to design a tool in a cost-effective, quick, and efficient manner. When there are varying needs and requirements, the creative tool designing team works on cutting edge software and designing tools.
Manufacturing of Tool
After designing the tool, it goes to further testing and assembling with the production machines. The adjustment has to be perfect in order to achieve the appropriate results in manufacturing. The team works together in fixing the tool, testing out the efficiency and also the quality. The quality control team ensures that the production is fine and only then the actual production or manufacturing starts. This ensures that there is no room for substandard production.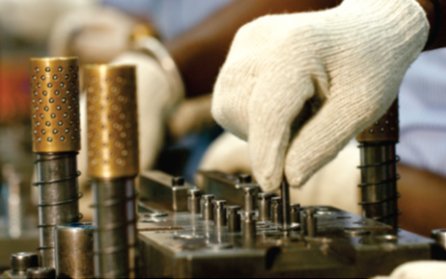 A major part of success depends upon the experience and efficiency of the complete team. When the team members work together in sync, it ensures that there is perfect harmony in every stage of tool design, development, and manufacturing.
Ujjwal handles crucial roles like  AGM Marketing, researcher, and is an author for KDDL – Eigen. He currently works with Eigen for implementing proven techniques and strategies for marketing plans on online and offline platforms. An expert in efficiently executing SEO, SEM, email marketing, social media marketing, PR marketing, Print campaigns, etc. Ujjwal has coordinated an efficient marketing team on various creative campaigns and programmatic buying to support various digital cross-promotion efforts. Implement efficient search optimization strategies with the help of collateral material and metrics.
In his former years, Ujjwal has years of experience in a managerial role for several reputed companies. His years of experience combined with the flair of writing help him come up with result oriented strategies for Eigen.