Top Reasons to Choose a Company with In-House Tool Room
Home > Top Reasons to Choose a Company with In-House Tool Room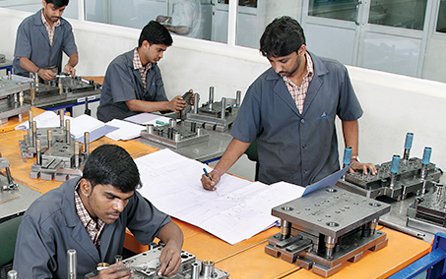 The tool room is one of the most important areas of precision metal stamping companies, to support their daily production requirements. Tool rooms are not at the forefront of most companies, but mostly work behind the scenes. The main production area in the shop might seem to be bright and equipped with the latest technology, but the tool room houses the primitive roots of metalworking. Some take for granted the capabilities of a tool room, but do not realize the great potential of what it can offer in tool designing and other such complex tooling requirements. However, when it is a leading precision metal stamping company like Eigen we're talking about, the role of the in-house tool room for designing becomes very important. But why choose a company stamping with in-house tool room?
Close alignment between the cross functional team
One of the most important advantages of having an integrated approach to progressive tool design is that the design and development team can work together and coordinate on various projects. As all the team members contribute to the tool designing process, it increases the overall efficiency of product development. Once the communication is streamlined in product development, the cost and time is then minimized in the overall process. In tool design projects, it is important to have precision, and one of the best ways to achieve this is by making the teams work closely together at one location.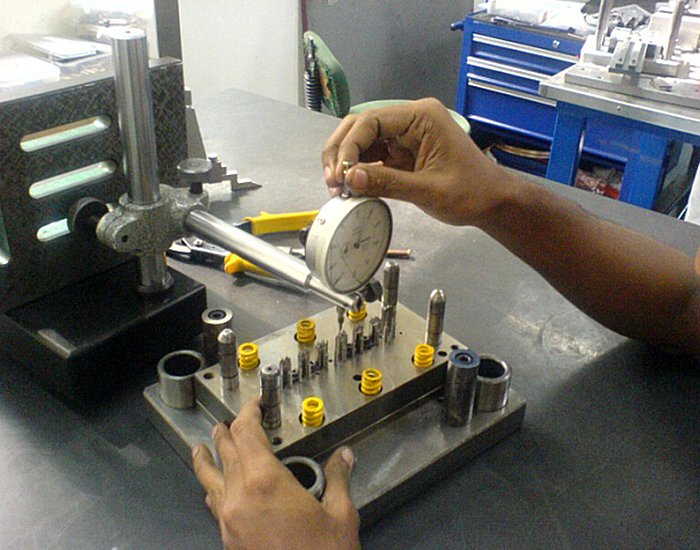 Shorter time for product design
The tool design and development can be shortened by several months with the in-house tool room. For progressive tool design, metal stamping die design or press tool die design and similar, a well-organized and equipped tool room is what helps to start the design process as early as possible. When a company has all the needed supportive equipment and staff in-house, it helps cut the product development time and make it much shorter. As a result, it saves a lot of the time and cost required for product design.
EXPLORE OUR PROGRESSIVE TOOLING SERVICES
Strong focus on the tool life and maintenance cost
The in-house tool room dedicated for tool design will usually have an extensive range of resources available. This ensures that there will be a robust set of procedures for preventive maintenance of the tool, so that its life can be extended. When it comes to tool repair, the tool stays in the factory for maintenance and repair rather than going to any third party, which minimizes the cost and downtime associated with it.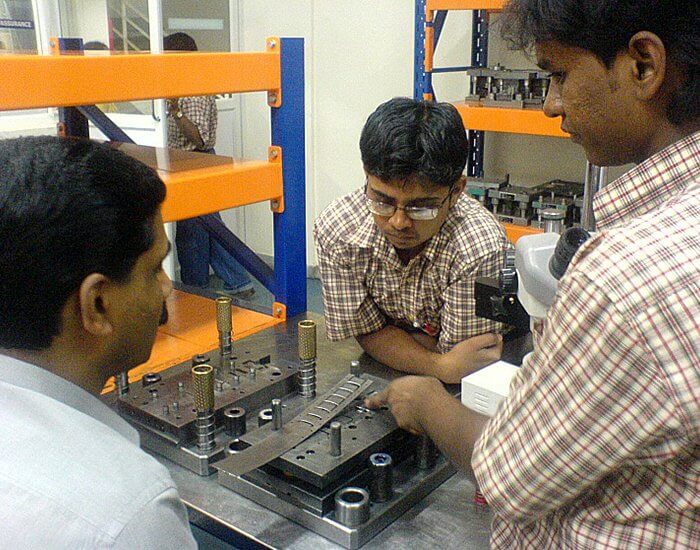 Wide range of progressive tools & plastic injection mold & design options
With the company having an in-house tool room for designing, there will be a broad range of tooling design options available at one place. The in-house teams working on the stamping die design for example, will have all the needed expertise and experience to get it done with precision. This team will also have the needed support and technology to attain precise results. It helps manage the whole process of progressive tool design in a more cost effective and efficient way.
Eigen's in-house tool room
Eigen has always focused on precise results for all the projects that they have taken on. Their flawless designing and engineering capabilities set them apart from the rest. The team of professionals here has over 50000+ hours of tool design and development experience. In order to produce the most efficient tool designs, Eigen uses state of the art simulation and CAD software such as the AutoCAD inventor, UG NX 9, Auto CAD, 3D quick press, Solidworks, and more. This enables many tool designing capabilities in-house for Eigen, keeping precision at the forefront of tool room design.
Accomplishments of Eigen in progressive tooling
In order to make sure that each product that comes out of the tool room lasts for a lifetime, Eigen uses only the best technology available on the market. There are numerous processes and quality checks in place in order to ensure that the entire tool development process is monitored to attain efficient results. Eigen has a proven track record in design, development and manufacturing of single stage press tools to highly complex 45 stations and even higher tools in a few cases, with the varied sizes ranging from 100 to 1500mm. The in-house tool room dedicated for designing has made it possible for Eigen to develop more than 1000 tools, and this number is always increasing.
Progressive tool design requires complete dedication and a state of the art facility to ensure precision. With the in-house tool room equipped to design highly complex tools, Eigen always makes sure to implement the highest standards in the design and development of every tool. The technical expertise and a dedicated technical team in-house for tool design always ensures that Eigen delivers exceptional results.
Ujjwal handles crucial roles like  AGM Marketing, researcher, and is an author for KDDL – Eigen. He currently works with Eigen for implementing proven techniques and strategies for marketing plans on online and offline platforms. An expert in efficiently executing SEO, SEM, email marketing, social media marketing, PR marketing, Print campaigns, etc. Ujjwal has coordinated an efficient marketing team on various creative campaigns and programmatic buying to support various digital cross-promotion efforts. Implement efficient search optimization strategies with the help of collateral material and metrics.
In his former years, Ujjwal has years of experience in a managerial role for several reputed companies. His years of experience combined with the flair of writing help him come up with result oriented strategies for Eigen.