5 Secrets To Find the Best Metal Stamping Parts Supplier
Home > 5 Secrets To Find the Best Metal Stamping Parts Supplier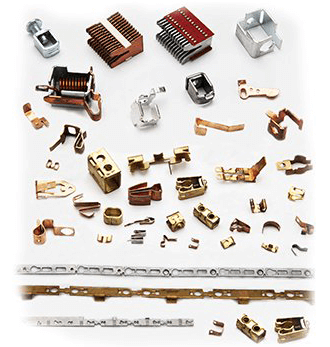 There are thousands of companies across the globe claiming to be the best metal stamping parts suppliers, but it is only one that you can partner with. Not every claim is true and not all companies are perfect for you, so how do you find a needle in a haystack so to speak? Well, with the natural inclination to choose the first one that offers you best services, it could be a disaster waiting to happen. So how do you find the best precision metal stamping supplier?
Here are the top 5 secrets from the industry experts to help you identify the experts:
1. Manufacturing Capability
This is one of the first things to look at in the supplier. Metal stamping is a complex process and there are several techniques such as punching, bending, piercing, blanking, die making, etc. required to manufacture the components. Is the metal stamping parts supplier capable to handle all your requirements? Check this fact first before going into detailed discussions. It is very easy to get swayed with fancy promises, but first look at the facts such as machines used, die making process, manufacturing floor, employee strength, etc.
2. Reputation In the Market
A good reputation means that the supplier has kept his promises or even delivered more than promised to his past clients. Metal stamping is crucial in aerospace, industrial tools, defense, electronics, automotive, and other such industries, and so there are no second chances if the final production is below par. So take some time and look at the reputation, talk to previous clients, look at the previous client's experience, and so on. Taking a look at the supplier's website will be helpful as well. For example, very few suppliers get ISO certified, and the ones that have been awarded this certification have a good reputation for sure.
3. Deliverables
Regardless of how good a manufacturer is, what if the precision metal stamping parts are not delivered on time? This will have a negative impact on your overall business. Reputed metal stamping suppliers follow strict timelines and also work on delivering before the promised delivery timings. Apart from timelines, the suppliers should also have efficient delivery system to ensure that the delivered products are in the best condition. Looking at the current delivery process, technology, and standards will help you get clarity on what you can expect from the supplier when handling your requirements.
4. Efficient Quality Control
Quality control is often underrated by many experienced metal stamping suppliers. However, the ones that take quality control seriously are the ones to look out for. From the designing of die to the delivery and transportation of a product, there should be efficient quality control strategies and this is what helps the best metal stamping supplier stand apart from the rest.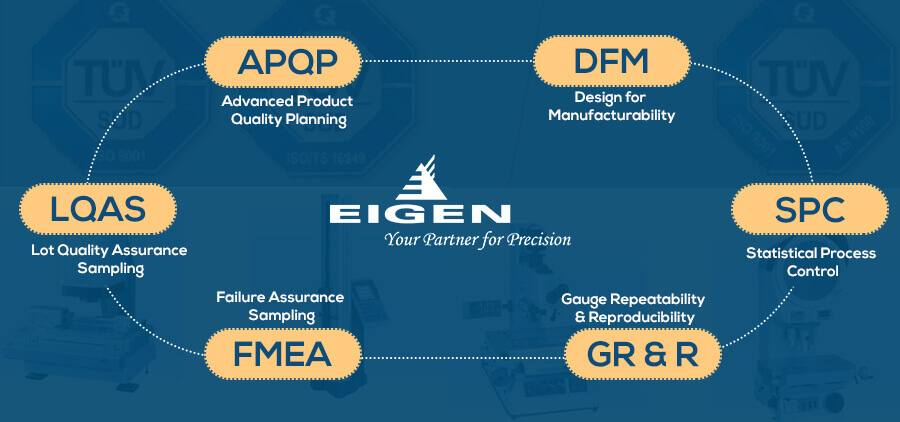 A personal visit to the property will prove to be helpful in this regard because you will be able see the quality control measures yourself, and also see firsthand the several strategies being implemented.
5. Efficient Customer Support
This is yet another important aspect that you need to make sure to check for. A good customer support will be helpful throughout the journey and you will get an idea of how you will be supported throughout the partnering journey. From the time you make the first contact to visiting the property, be observant about the customer support team.
The above mentioned 5 secrets will help you get a clear perspective on whether or not the manufacturer is the right choice for you.
Eigen: Your Trustworthy Metal Stamping Partner
Eigen has a global outreach and a long list of loyal customers partnering with us from several years. The team is enthusiastic about every project whether large or small. With the latest state of the art technology and a dynamic team, we make sure to deliver only the best results to our clients. An efficient, reliable and trustworthy metal stamping supplier is just a few clicks away; get in touch with us and experience the best metal stamping services.
Ujjwal handles crucial roles like  AGM Marketing, researcher, and is an author for KDDL – Eigen. He currently works with Eigen for implementing proven techniques and strategies for marketing plans on online and offline platforms. An expert in efficiently executing SEO, SEM, email marketing, social media marketing, PR marketing, Print campaigns, etc. Ujjwal has coordinated an efficient marketing team on various creative campaigns and programmatic buying to support various digital cross-promotion efforts. Implement efficient search optimization strategies with the help of collateral material and metrics.
In his former years, Ujjwal has years of experience in a managerial role for several reputed companies. His years of experience combined with the flair of writing help him come up with result oriented strategies for Eigen.