How Automotive Metal Stamping Process Can Impact Your Bottom Line
Home > How Automotive Metal Stamping Process Can Impact Your Bottom Line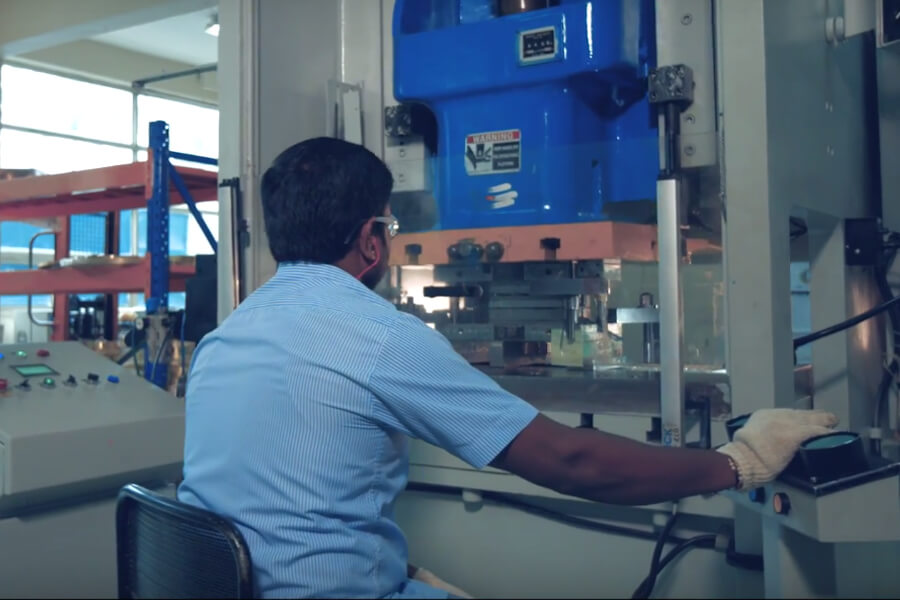 If profits are your bottom line then there are steps that should be taken before you reach the bottom line. And if you are aiming to increase your profits without sacrificing the quality of your product, consider automotive stamping. In order to create new components, the automotive stamping process transforms metal blanks into the desired shapes through the use of the automotive stamping die. With a variety of modifications, the automotive metal stamping can create numerous shapes for your product, giving you larger versatility. It comes with various benefits such as shorter production time, reduced product costs, and extended product lifespan.
The Automotive metal stamping process has successfully produced parts for the automotive industry including bus bars, lead frames, terminals, electrical contacts, battery cable connectors, inserts for plastic moldings, brackets, clips, shields, and press-fit pins. These components have strict requirements and extremely tight tolerances and are supplied to trucks, cars, sports vehicles, and hybrid electric vehicle manufacturers for applications such as batteries, wire harnesses, lights, motors, seating, engines, alternators, steering wheels, control systems, security systems, brake systems, fuel systems, and more.
Automotive stamped parts may appear to be just a tiny component of the larger product, but they can have a great impact on a manufacturer's bottom line in terms of cycle time, cost and product reliability. Here are a few helpful tips to maximize automotive metal stamping's impact on your bottom line:
Involve your automotive metal stamper early on
Getting your automotive metal stamper involved from the start can save you much time and money later on. Often, there is a gap between the CAD design and drawing and what the automotive stamping engineer can actually do within the limitations of the automotive metal stamping process. The best performances are achieved when the manufacturer and automotive metal stamper collaborate together right from the beginning. This way they can avoid any such disparities and make improvements to optimize the design, thus saving money and production time.
Keep no secrets, Forecast your requirements
It's important to share the full scope of the manufacturing process with your automotive stamping engineers such as your projected volumes, assembly process, release dates, and lead times. Having as much information as possible early on will help automotive stamping engineers to ensure a smoother production process from start to finish. If required, they might redesign the automotive stamping die to reduce costs and streamline manufacturing.
Ensure that the automotive stamping engineer knows the volume at which you plan to produce the parts because production volume has a direct impact on costs. The anticipated production volume has a direct bearing on how an automotive stamping die is produced and its cost. High volume products require robust tooling, but low volume products do not require that. Also, let them know your expected lead time to avoid the need for rush jobs and build in time for extra modification, review, and production changes, which again eliminates extra costs.
Evaluate the dimension of the part for final assembly
Understanding exactly how a single part will fit into the final design is very important when evaluating the budget of your project. Providing accurate dimensions for your part's assembly will assist the automotive stamping engineers to use in-die assemblies that can eliminate unnecessary steps in the automotive stamping process, lower production costs, reduce labor, and speed up the time to market.
Access prototypes and simulations
Before fully launching the production, ensure that you test the design and functionality of the product. Automotive stamping engineers have the skill and ability to create prototypes and simulations that test if the designed product will perform well under certain conditions. If in case, you spot problems or issues, you will then be able to make adjustments to the design and improve the product's durability and function, thus optimizing the production. When you use these simulations and prototypes, you can perfect your design without wasting any valuable resources or time in making something that actually does not work.
The high-precision full-spectrum automotive stamping capabilities and technology along with the best workforce provide the manufacturers with precision-crafted parts and extreme efficiency. Automotive metal stamping process impacts your bottom line depending on how you collaborate with automotive stampers right from the beginning.
Ujjwal handles crucial roles like  AGM Marketing, researcher, and is an author for KDDL – Eigen. He currently works with Eigen for implementing proven techniques and strategies for marketing plans on online and offline platforms. An expert in efficiently executing SEO, SEM, email marketing, social media marketing, PR marketing, Print campaigns, etc. Ujjwal has coordinated an efficient marketing team on various creative campaigns and programmatic buying to support various digital cross-promotion efforts. Implement efficient search optimization strategies with the help of collateral material and metrics.
In his former years, Ujjwal has years of experience in a managerial role for several reputed companies. His years of experience combined with the flair of writing help him come up with result oriented strategies for Eigen.