The Important Function of Metal Stamping Dies
Home > The Important Function of Metal Stamping Dies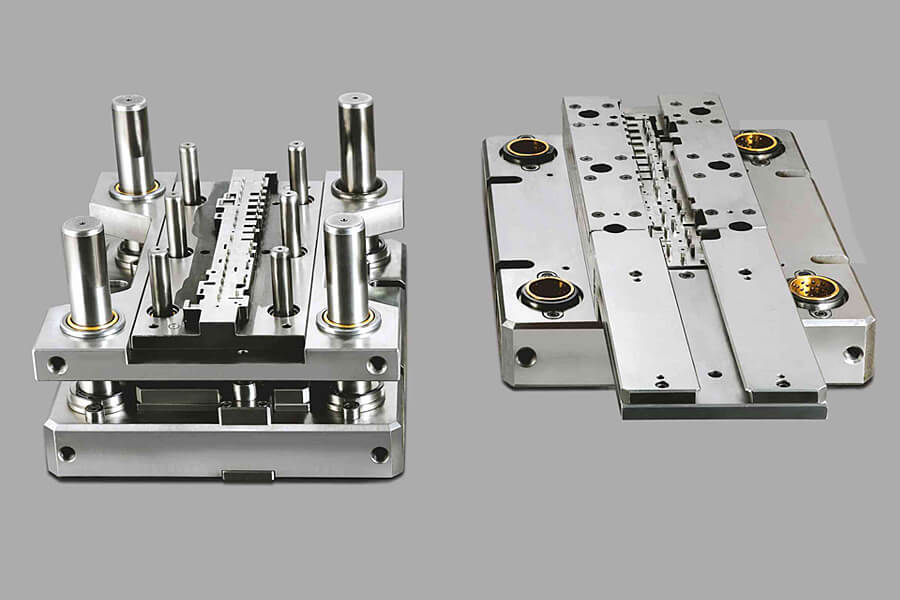 In this technologically evolving world, there is always something new to look forward to and we are used to look for something new and interesting. The industries that are in the forefront of innovation still rely on precision metal stamping companies to design, develop, and ship them with the needed structure to add more hardware and software to it. But what is that one thing which is most important for a metal stamping company? Well, it is the metal stamping dies. The sheet metal stamping dies are a heart and soul of a company to function smoothly and in most cases, there is a dedicated team to handle this area.
The role metal stamping dies play?
Metal stamping dies are heart and soul of manufacturing industries. These are crucial and efficient in cutting and shaping the metal in given shape. Dies are designed and customized to the item being stamped. These are used for stamping as simple as clips to the most complex pieces that used in the advanced technology. As a result, the manufacturing industries make use of metal stamping dies in maximum production needs in order to get efficient and cost effective results.
EXPLORE OUR METAL STAMPING SERVICES
How do the dies actually work?
The basic operation of dies are blanking, drawing, shearing, and bending. The precision die and stamping or a tool has specifically designed metal cavity on which the metal sheet is placed and this gives a preferred shape and design to the sheet. In this setting, upper part of the sheet metal stamping dies are connected to the press slide, and the lower part is connected to the press bed. Punch is one specific component that pushes the metal sheet through the die and in this way it performs the actual shaping function. On the dies, the pattern can be used to give a three dimensional lettering or embossing the name of final product as well. In this way, the metal stamping dies become heart and soul of metal stamping machines.
The variables in metal stamping dies
There are more than one ways of placing the sheet metal stamping dies in a machine and it mostly depends upon the client's requirements. For example, the dies can be placed alone or there can be series of dies that are placed on the press line. The input variables for metal stamping dies largely depend upon the press parallelism, the tonnage, nitrogen pressure in dies, shut height, press speed, the counterbalance pressure and so on. These variables have strong impact on the overall quality of stamping panel and this happens particularly during the die setup. Just by replacing one set of dies with another, the same presses can be reused based on the need.
Wide range of availability
There are various designs and types of dies commonly used for precision metal stamping. There are multiple station dies, single station dies, progressive dies, compound dies, tandem press lines, and so on that are widely used in stamping field. However, the companies working in this area decides on what is best for a particular project. The engineering team analyses the project, does brain storming sessions on what is available and how the project can be handled best and then designs new dies or uses existing dies.
What makes a good die maker?
The die makers need to be efficient in what they are doing and have years of experience backing them up. Professionals working in this field should have good understanding about the industry and the machines used for this purpose. Some of the machines used in this industry are lathes, milling, hand tools, grinder, and so on. It is not just about knowing a certain machine, but they need to know exactly how the different crucial functions work in these machines.
A precise calculation and mathematics need to be clear as well to become a good die maker. It is all about precision, efficient tools, and an ability to think beyond the box and be creative. At the end of a project, the clients value good work, efficient production, cost-effective solution, less scrap material, and on time delivery. So these are also some of the aspects they can't overlook.
EXPLORE OUR METAL STAMPING SERVICES
Eigen: Metal stamping dies with a difference
When it comes to sheet metal stamping dies, what makes Eigen different? Well, to say the least, Eigen has years of experience in designing, producing and delivering metal stamping parts to several industries such as automotive, electronics, electrical, aerospace, industrial engineering, and so on.
Eigen has their own die making tool room in-house. This makes the die making process efficient and any problems in the initial stages can be easily rectified and appropriate solutions can be implemented. The latest technology with AutoCAD inventor, 3D quick press, UG NX 9, Solidworks, and so on are used for providing the best results for various industries. Precise designing of the metal stamping dies results in efficient production as well.
Ujjwal handles crucial roles like  AGM Marketing, researcher, and is an author for KDDL – Eigen. He currently works with Eigen for implementing proven techniques and strategies for marketing plans on online and offline platforms. An expert in efficiently executing SEO, SEM, email marketing, social media marketing, PR marketing, Print campaigns, etc. Ujjwal has coordinated an efficient marketing team on various creative campaigns and programmatic buying to support various digital cross-promotion efforts. Implement efficient search optimization strategies with the help of collateral material and metrics.
In his former years, Ujjwal has years of experience in a managerial role for several reputed companies. His years of experience combined with the flair of writing help him come up with result oriented strategies for Eigen.