Advanced Cutting Tool design and Fabrication Mechanism
Home > Advanced Cutting Tool design and Fabrication Mechanism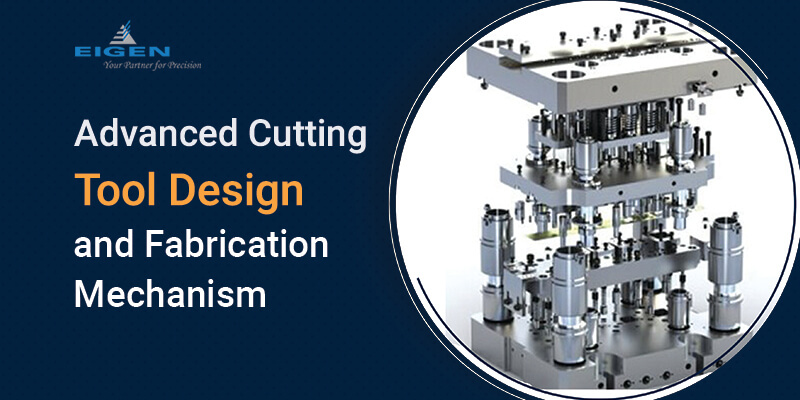 Precision metal stamping technology has rapidly shifted gears in the recent past. Manufacturers are constantly looking for new and modern ways of operation to keep up with the ever-increasing consumer demands. Although the dimensions are changing along with machines and technology, some of the basic things such as the cutting tool and fabrication mechanism remain the same. Advanced cutting tool design is an integral part of machining operations, and all the more so when it comes to the micro tool development. Micro tool development has varied use in the manufacturing industry, here are some of the important highlights we would like to share on advanced cutting tool design and fabrication mechanism in our times.
Uses of Sheet Metal Press Tool Design
For producing high quality, high functional and advanced machine tools, sheet metal press tool design is a widely opted for option. Machining hard and custom metals are primarily required by industries such as aerospace, automobile, defense, electrical & electronics, and the likes. Industries are widely accepting and looking for efficient sheet metal press tool design. Advancement in technology has enhanced and implemented several possibilities that makes sheet metal process highly reliable and helps customers benefit in the long run.
Advanced Cutting Tool Technology
In this context, the advanced cutting tool technology refers to single or multi-point tools for turning, drilling, milling, or thread milling operations. The tools vary greatly in their sizes and shapes and most importantly their selection varies based on the specific machining project being taken on hand. Machine operations are in the best positions to decide on the sizes and shapes of advanced cutting tool that they will require for a specific project in order to keep up with client needs. There is an ever-increasing need in the industries for manufacturing complex parts and this is where the advanced cutting tool technology helps to reach ultimate goals.
The Life of a Cutting Tool
Life of a cutting tool is one of the important considerations in the machining and precision metal stamping industry. This is what further dictates about what will be the overall cost and how will the productivity of operations take place. Tool wear and tear will have a huge impact on the machine operations and cost involved, and the average life for the tool varies as well. The life of a cutting tool changes from industry to industry and so the development and maintenance cost varies as well. There are several times difficult to cut materials that need to be cut, and using an improper tool contributes to performance issues and unstable tool life as well. Using improper tool could also result in more power consumption of machines and this adds to the increasing cost to the overalproject.
Computing in Advanced Cutting Tool Design
Stamping tool design is one of the most complex processes and requires precision in achieving high standards. Doing this without computing is almost impossible. There are several advanced software and computing technologies that are available for press tool design and the manufacturers leading this sphere make sure that they are in line with the tools. Software such as AutoCAD, and custom press tool design software help manufacturers to deliver the best results. The creative team of designers along with the experienced engineers in tool designing make sure that they understand client requirements, the metals being used, the project needs, and then deliver a great cutting tool design.
Advancement in Fabrication Mechanism
Although the basics of fabrication remain the same, it is still important to notice that there have been advancements in the dynamics of fabrication mechanism in recent days. There is also automation and CNC machining being introduced to efficiently carry out this massive requirement in the tool design as well. Manufacturers and tool design companies do well to make sure that they keep up with the latest changes so that they do not become redundant but keep up with the growing consumer needs. Rather than relying on the native techniques and processes, the manufacturers make sure that they implement the recent trends to not only add efficiency but also to save a lot of time, efforts, and money in the overall process.
Amalgamation of Experience and Technology is a Must
Any manufacturer involved in stamping tool design and fabrication services need to understand the importance of having experienced designers and technology in their toolroom. Although advanced technology helps to attain certain results, it is still crucial that companies retain their experienced engineers involved in the designing process. Design is a crucial aspect in metal stamping, and this is where it can be very well decided how a tool will operate, the material to cut, life of tool, performance issues, and so on. With so many decisions and possibilities, it is important to have the best men with experience and creativity in the tool room. This helps to deliver the most comprehensive tool to the client.
Remember that cutting tool design depends on the material being cut, the performance, and similar such reliant factors
A qualified and creative team understands the specific client needs and then converts them into the production flow
Once designed, there will be time when it will need some maintenance from the designing team
Access to the design team is important during the manufacturing process as well so that difficulties can be handled on the manufacturing floor in certain cases
Importance of In‐house Toolroom
In‐house toolroom has many benefits in the long run. Imagine the time required to transfer the tool to manufacturing units, and the time required for maintenance, and so on. However, if there is an in‐house toolroom, it helps the manufacturers to efficiently carry out any work on the tools and when there is a requirement. This in turn not only saves time, but it also saves a lot of cost for the company in the long run especially in long projects. Manufacturers with in‐house toolroom are preferred over the ones without by many clients due to the above and several such benefits.
Eigen: Your Trustworthy Tool Design Company
Eigen is in the industry with many years of experience and is currently working on several short and long term projects from clients across the globe. The clients come from industries such as aerospace, defense, electrical & electronics, and so on. We have used advanced cutting tool designs and fabrication mechanisms to efficiently handle the needs of our clients. Our manufacturing and designing tool room is equipped with several new software and advanced tools to keep up with the client needs and deliver the best results across the globe.
Ujjwal handles crucial roles like  AGM Marketing, researcher, and is an author for KDDL – Eigen. He currently works with Eigen for implementing proven techniques and strategies for marketing plans on online and offline platforms. An expert in efficiently executing SEO, SEM, email marketing, social media marketing, PR marketing, Print campaigns, etc. Ujjwal has coordinated an efficient marketing team on various creative campaigns and programmatic buying to support various digital cross-promotion efforts. Implement efficient search optimization strategies with the help of collateral material and metrics.
In his former years, Ujjwal has years of experience in a managerial role for several reputed companies. His years of experience combined with the flair of writing help him come up with result oriented strategies for Eigen.