Tool and Die Manufacturing and Die Casting Company in India
Home > Tool and Die Manufacturing and Die Casting Company in India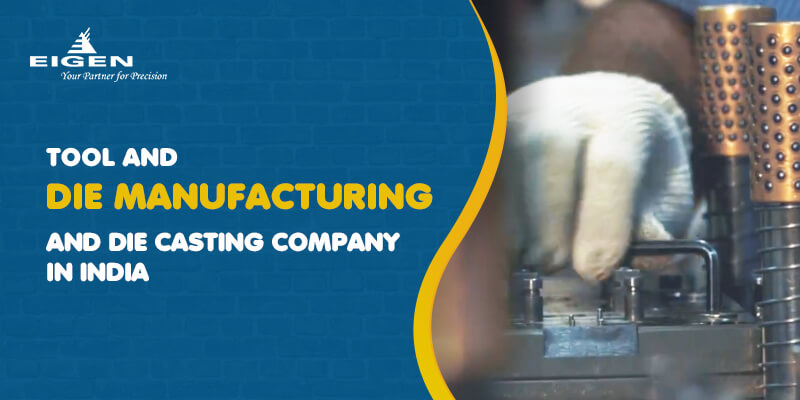 Tool and die manufacturing and die casting companies are thriving in India. As a manufacturing giant in industrial equipment, India is also a preferred partner for companies around the globe. Industries such as aerospace, automobile, electrical and electronics, defense, and likes depend highly on companies in India. Although there are many companies, Eigen is one that stands out in this regard. The company has a strong reputation on a global scale and here are some of the reasons why industries prefer Eigen. 
Experienced in Tool and Die Manufacturing
Eigen has been providing tool and die manufacturing for over 16 years and is an experienced player in this industry. The company has experienced the shift from native techniques in die manufacturing the very recent and technologically advanced techniques. This helps Eigen to understand the exact client requirements and deliver the best results every time. With years of experience in the precision metal stamping industry, Eigen has carved a niche in tool and die manufacturing and has become a preferred partner. 
Ideal Location for National and International Supply
Eigen is located out of Bangalore, India. Bangalore is very well connected to other states across the country. Located close to Bangalore International Airport, the manufacturers are also in the best place to keep up with international demands. Serving clients from varied backgrounds, Eigen has a strong strategy to supply products on time and most often exceed client's expectations. An ideal location and good reputation in supply also makes Eigen a preferred partner when it comes to tool and die manufacturing. 
Well Equipped Facilities
Equipped with the latest tools and processes, Eigen is prepared to handle every requirement. The manufacturing unit is spread across an area of 85000 Sq Ft. and several processes and techniques are spread across throughout the unit to keep up with the increasing demands. Rather than sticking to the native way of doing things, Eigen believes in the importance of ensuring that latest technology is implemented and employers are regularly trained to handle them. 
EXPLORE OUR ENGINEERING DESIGN SERVICES
Reputed in Quality Control
Eigen carries a great reputation of maintaining stringent quality control processes. The company is certified with AS 9100 D, ISO 9001:2015 and IATF 16949 Certification, and this reflects highly on what the company stands for when it comes to quality control.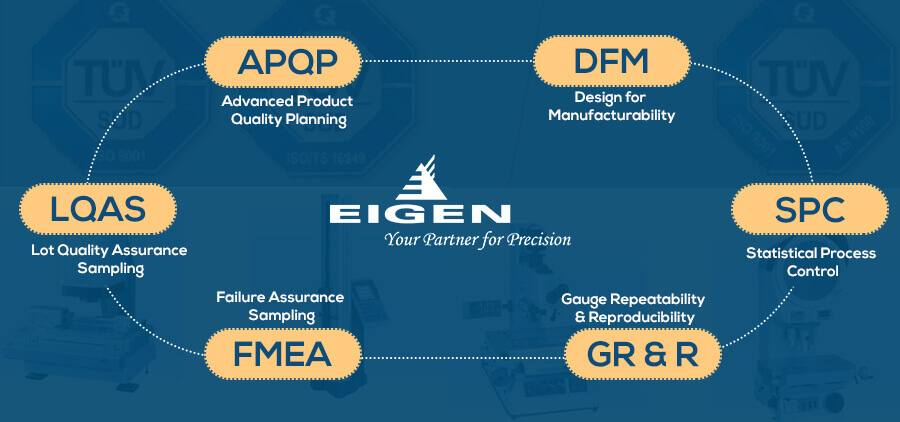 From the designing to the manufacturing process, the teams are trained to implement and follow up with the quality control measures. Every piece, product and component that is delivered to the client goes through strict QC processes. The company takes delight in ensuring that their employers are trained regularly on the recent trends and technology used in quality control. 
Also Read- Types of Progressive Tools That You Should Know About
Pioneers in Using the Latest Technology
When it comes to using the latest technology in tool and die manufacturing and die casting services, most companies are reluctant. However, this is not the case with Eigen. The company implements the latest technology when deemed fit to the company's mission. Eigen sticks to ensuring that the clients get best results in less time, cost, and hassle. Whether it is computing or tools, the company ensures that they are first ones to implement it. Rather than sticking to native technology, Eigen believes that the latest tools help in achieving the best results. 
Low Cost in Services
Compared to the global market, one of the most beneficial things for national and international industries is a low cost in services. As the company is located in India, the cost of labor, overhead costs, machining, and the likes are very low. This helps the company to also offer their services at a low cost. There is a win-win situation for industries as they are able to get the best results at low cost and this helps them save in the long duration. 
Versatile Services 
Tool and die manufacturing and die casting is often accompanied with several other services. As a reputed precision metal stamping supplier, Eigen also has several other services that make it a preferred partner for many other requirements. For example, industries looking for die casting may also be looking for plastic molding or plating services. With so many versatile services spread across the manufacturing unit, it becomes a preferred partner for industries. 
DISCUSS YOUR ENGINEERING DESIGN NEEDS? CONTACT US!
Why is India a Preferred Option?
When it comes to tool and die manufacturing and die casting in India, it is often a topic that is bought out in several tradeshows and events. Why India? Many wonders. Well, apart from the low cost of services and great connectivity with other countries, it is also a hub of the most innovative and creative group of engineers to make even the impossible seem easy in this industry. Eigen is reputed to create history with several projects that seemed highly complex at the time of inception, but the engineers made it look relatively too easy. A great pool of talent and highest standards of services and several industrial benefits puts India on top of the list for die manufacturing and other such requirements. 
Also Read- Overview of Sheet Metal Press Tool Design in the Manufacturing Industry
Why Not Visit Us?
At Eigen, we have transparent policies and it is easy for visitors on the tour to interact with the engineers on the manufacturing site. Visit us to know more about how we operate, the standards we have implemented and closely follow every day to ensure that our clients get the best result with every project. We welcome your visit and will be happy to hear from you and arrange a tour of our manufacturing facilities. 
Eigen: The Best Die Manufacturing Services
We have a long list of clients from across the globe and some have even shared their testimonials on the website. Eigen believes in building a long term partnership and goes all the way to ensure that no stone is left unturned in accomplishing the same goals. As a reputed die manufacturing company in India, we will be excited to deliver based on your specific needs.
Ujjwal handles crucial roles like  AGM Marketing, researcher, and is an author for KDDL – Eigen. He currently works with Eigen for implementing proven techniques and strategies for marketing plans on online and offline platforms. An expert in efficiently executing SEO, SEM, email marketing, social media marketing, PR marketing, Print campaigns, etc. Ujjwal has coordinated an efficient marketing team on various creative campaigns and programmatic buying to support various digital cross-promotion efforts. Implement efficient search optimization strategies with the help of collateral material and metrics.
In his former years, Ujjwal has years of experience in a managerial role for several reputed companies. His years of experience combined with the flair of writing help him come up with result oriented strategies for Eigen.