Progressive Stamping Die Design Tips
Home > Progressive Stamping Die Design Tips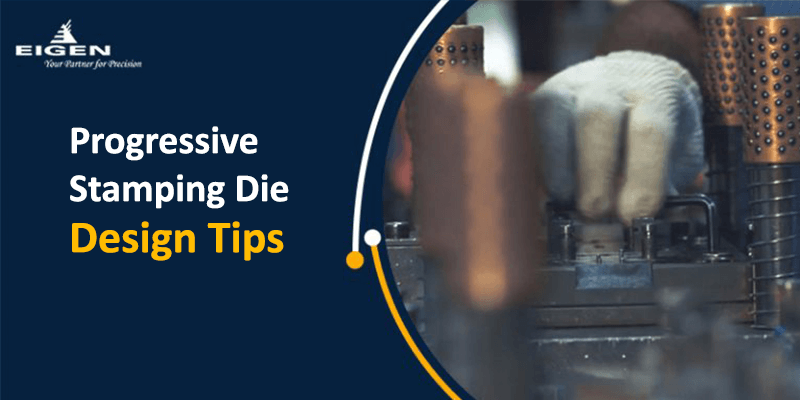 There are several methods used to shape metal components in the stamping manufacturing industry today. Of all these techniques, metal stamping is arguably the most cost-effective and popular metalworking method manufacturers use. 
Components made using metal stamping have multiple operations as they pass through various stations. These processes include punching, coining, blanking, embossing, and piercing. Every process has different fundamentals, allowing administrators to mix and match the sequences necessary to produce the highest quality products at the lowest possible price.
Understanding each process and every step involved helps you:

Avoid expensive business mistakes

Set proper expectations for budgets and delivery schedules

Receive superior quality components that allow products to function at their optimized capabilities
There are two factors that your metal stamping parts supplier will use to determine if they should use progressive die stamping for your products. These are: 
The volume of parts needed

The complexity of each part
These factors are fundamental to the construction and design of progressive tooling. Each element that contributes to ensuring product quality, tooling life, and tool maintenance must be carefully assessed. At this stage, you will face several moments when you have certain tradeoff features to optimize output, expenditure, and time is taken.
Also Read- What You Need to Know About Progressive Die Stamping
Five Tips for Successful Progressive Die Design
#1 – Identify the product's orientation:
The design of your progressive die and tools is primarily decided by how the product or component will progress through them. One challenging stage of progressive tool and die design is to rotate a part along the metal strip. Rotating components to optimize materials is often the only option in most use cases. In other situations, you need to compromise between component rotation and cam angling. This impacts your progressive die and tool cost and design directly. 
Another factor determining your component's orientation is the lift required to carry a strip from one stage to the other. However, you can design your progressive die and tool such that the part rotates well so that you don't need to lift it. Alternatively, you can also remove the need for a lift when you form your tooling upwards. If the part forms in the opposite direction, you can make minor adjustments in material usage optimization, tooling complexity and excessive lift. 
Another factor to consider while shortening your material feed is a component's rotation. If the feed is shorter, it has fewer issues and runs faster. If there's a significant gap between your component's width and length, your design can be more effective if your progressive tool and die have short leads. 
EXPLORE OUR PROGRESSIVE STAMPING SERVICES
#2 – Determine how the part will be carried:
How every component is carried will directly impact how well you feel the raw material, whether you lift the strip during feeding and the output's quality and consistency. Carrying components requires specific configurations. Your other option is to carry the part on one side of the strip. However, lifting the strip is harder in this case. You will need lifters at the center of the strip. 
Another option is using the ladder style to carry the component. This works better for complex components or those that need more lift. Engineers work on the tool and die design and must ensure the appropriate carrier is used for this task.
#3 – Piloting:
To decide the pilots in this step, the engineers and die designers must consider the configuration and tolerance needs of the client and project. 
#4 – Ensuring an exit plan:
An exit plan is a fundamental part of progressive tool design. Multiple factors must be included, such as the component's weight, shedder pin, and the type of carrier being used. Therefore, manufacturers must have an exit strategy in place from the beginning to ensure the progressive tool and die designing process is effective.
Also Read- Types of Progressive Tools That You Should Know About
#5 – Identifying the exact number of stations required:
Once you have finalized the progressive tool and die design, you should confirm the number of stations your project will require. If this is not done at the start and the number doesn't match, the resulting design could damage the progressive tooling system you currently have in place. Complex progressive die and tool designs automatically indicate that you need more stations. Similarly, you can reduce the stations if the design is simple. If you need to add more stations later, it could compromise the integrity of your progressive tooling.
DISCUSS YOUR PROGRESSIVE TOOLING NEEDS? CONTACT US!
Producing high-quality and cost-effective die and tools requires a deep understanding of: 
As dies become increasingly complex, the decisions depending on die design basics get more critical. When you strategically evaluate and tradeoff, you will end up with the best possible output. Your result will be a strong progressive die that you can maintain easily. This will produce consistently superior quality in every component.
Ujjwal handles crucial roles like  AGM Marketing, researcher, and is an author for KDDL – Eigen. He currently works with Eigen for implementing proven techniques and strategies for marketing plans on online and offline platforms. An expert in efficiently executing SEO, SEM, email marketing, social media marketing, PR marketing, Print campaigns, etc. Ujjwal has coordinated an efficient marketing team on various creative campaigns and programmatic buying to support various digital cross-promotion efforts. Implement efficient search optimization strategies with the help of collateral material and metrics.
In his former years, Ujjwal has years of experience in a managerial role for several reputed companies. His years of experience combined with the flair of writing help him come up with result oriented strategies for Eigen.