Automotive Sheet Metal Stamping Dies and their Benefits
Home > Automotive Sheet Metal Stamping Dies and their Benefits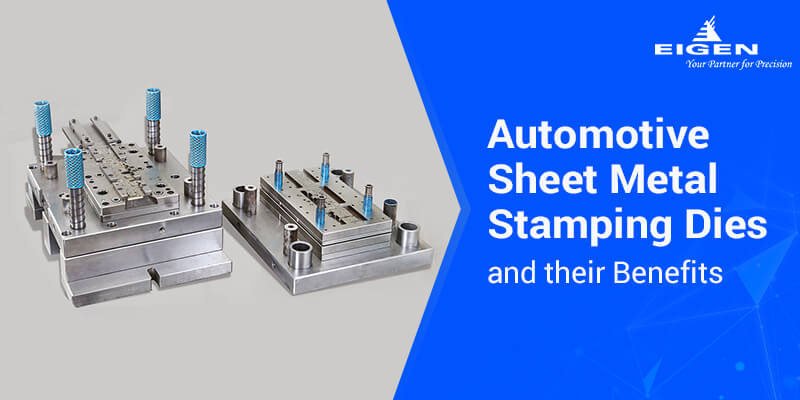 The year 2020 marked the presence of COVID-19 and had an impact on industries like travel, tourism, hospitality, manufacturing, and many such ones. Just a few years ago, the research organizations had estimated a massive growth in the automotive sheet metal stamping industry, but currently, the situation seems to be not so good for this industry. However, on the other hand, there are several advancements that are taking place and the industry is coming up with several new models, designs, accessories, and metal equipment for consumers across the globe. This is where the automotive sheet metal stamping dies comes into the picture.
What Exactly is The Sheet Metal Stamping Process?
Flat sheet metal is placed in the coil or blank form into a stamping press wherein a die surface forms the metal into the pre-designed shape. Manufacturers can accomplish a high level of precision, cost efficiency, efficiency utilization of the metal, etc. when using this approach to produce components in the automotive industry. The sheet metal stamping dies used especially used in these presses are chateregised by multi-station or single-station dies.
In single-station dies, the combination and compound dies are included. Compound dies are used when more than one cutting operation is required to be done in the press. For example, it is used when multiple cuts are to be designed in a single steel washer used in the automobile.
Combination dies are used when cutting and non-cutting operations are included in a single press stroke. For example, a die that is used to produce a flange and also a cut in the given metal blank.
Multi-station dies include the transfer and progressive dies. In these, punching, notching, and cutting operations take place in a sequence and all from the same set of dies.
Benefits of Sheet Metal Stamping Dies
There are numerous benefits of sheet metal stamping dies in the automotive industry. With the worldwide consumer demand for something new and interesting in the industry, there is also something new offered by this industry. A mass sheet metal stamping production across the globe helps to keep up with the ever-increasing consumer needs. Here are some of the top benefits of sheet metal stamping dies in the automotive industry:
Low cost of Manufacturing
When producing bulk sheet metal stamping components, and this is the case in most of the automotive industry businesses, sheet metal stamping dies are designed to reduce the overall manufacturing costs. The secondary costs required for processes such as plating and cleaning is also much cheaper with this approach. This helps the businesses to receive their components at a much lower cost compared to other metal stamping approaches. Dies are relatively easier to design and help manufacturers to keep the production cost low, and this helps the B2B, and also B2C consumers in the long run to get their products at a much lower cost.
Also Read- Automotive Stamping Dies Save Big With Metal Stamping
Higher Automation Possibility
The metal stamping machines are much easier to automate and it is easier to employ a higher-end computer program that facilitates fast production, greater levels of precision, and quick turnaround timing. With a high level of automation possibility, the reputed and experienced sheet metal stamping design manufacturers are able to utilize their manpower well. Employees are not just used for manual work but are used in areas that require more cognitive skills and the repetitive tasks are taken care of by the automation. In this way, the need to spend on manual labor reduces but at the same time automation ensures that the manufacturer can expand their business operations as well.
Long Term Investments
Sheet metal stamping presses are a long term investment for manufacturers. Although there is a great demand for sheet metal stamping components by the automotive and other industries, the manufacturers need to be equipped to keep up with the growing needs in order to be able to provide the best results. Consumers prefer to go with the manufacturer that has not just low cost and automation possibility but most importantly has the capability to keep up with the demands. In this regard, the metal stamping presses work out to be a long term investment.
Used in Wide Range of Applications
Sheet metal stamping dies are used in a variety of applications and especially used in the three-dimensional designs and other surface-engraving features widely used in the automotive industry. Everything we need in automobile changes and evolves as modern trends set in with time, and this keeps the automotive industry on its toes to introduce the most efficient and latest products and designs to the consumers. Metal stamping helps them to achieve this and design parts that are used in a wide range of applications just in the automotive industry. The products can range from simple stamping items to parts found in friction plates, engine bases, and so on.
Keeping up with the demand
Covid-19 has dented the industry to a great extent, but we will soon come out of this pandemic victorious. The same will be true in the automotive industry. As the market stabilizes, there will be an increased need to keep up with the consumer demands and this is where the sheet metal stamping manufacturers will also be busy catering to the business needs. In the current situation, the manufacturers can do well to analyze their machinery and technology to make sure that they are able to keep up with the ever-increasing need of automotive industry
Also Read- Precision Die and Stamping for the Automotive Industry
Eigen: Your Automotive Industry Stamping Experts
Eigen has been in the precision metal stamping industry from the last 16 years and has a global clientele spread across varied forms of industry. Automotive industry is one of the main industries served by Eigen and has the top-notch machinery and computing technology to keep up with the ever-increasing and growing consumer demands. At Eigen, the latest tools and a creative team for sheet metal stamping design help to come up with creative ways to add efficiency to manufacturing, lower cost, and make the best use of automation to keep up with the demand. Check out the company page to know more about the capabilities of this international player.
Ujjwal handles crucial roles like  AGM Marketing, researcher, and is an author for KDDL – Eigen. He currently works with Eigen for implementing proven techniques and strategies for marketing plans on online and offline platforms. An expert in efficiently executing SEO, SEM, email marketing, social media marketing, PR marketing, Print campaigns, etc. Ujjwal has coordinated an efficient marketing team on various creative campaigns and programmatic buying to support various digital cross-promotion efforts. Implement efficient search optimization strategies with the help of collateral material and metrics.
In his former years, Ujjwal has years of experience in a managerial role for several reputed companies. His years of experience combined with the flair of writing help him come up with result oriented strategies for Eigen.